A Campus Tour Leads to a Partnership in Africa
Update Sept 21, 2015: The work of Dr. Janis Miller, Dr. Denis Mukwege and his son, Alain Mukwege, is profiled in an in-depth International Business Times article, "Inside Congo's Rape Crisis."
Janis Miller was in the middle of a busy fall semester when a colleague knocked on her office door and asked if she could escort a visiting physician from Africa around the campus. The doctor's name was Denis Mukwege. 
"The first thing I said was, 'How do I pronounce that?"' said
Dr. Miller
, an associate professor at the University of Michigan School of Nursing. "This was so not planned. I was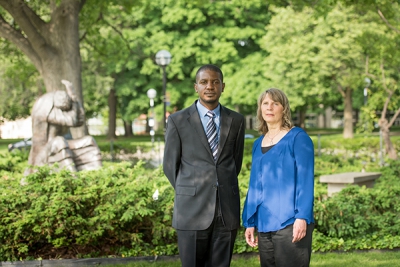 supposed to be somewhere else, some routine meetings."
She spent the day with the doctor from the Democratic Republic of Congo, and although she couldn't speak French and his English was limited, the two clicked. Dr. Mukwege (pronounced Mook-WAY-gay) was visiting U-M to receive the Wallenberg Medal, a humanitarian award that honors Raoul Wallenberg—an alumnus who saved tens of thousands of Jews during World War II.
Miller said she was impressed with how Mukwege took up the rallying cry of Wallenberg that "one can make a difference." He asked everyone he met that day to do just one thing that would make a difference.
"The request felt very personal," said Miller, who is also a research associate professor in obstetrics and gynecology at the U-M Medical School. About a year later, Miller was on a flight to Mukwege's homeland in central Africa, her first trip to the continent.
That chance meeting on the autumn day in 2010 has since grown into a vital partnership with Panzi Hospital, founded by Mukwege. The institution near the eastern city of Bukavu has developed a global reputation for caring for women in one of the most dangerous places in the world for females.
[Note: the
full story
from which this is excerpted provides background on Congo's political situation and the mining of "conflict minerals," such as gold and the three Ts: tantalum (stores electricity in smart phones), tungsten (makes phones vibrate) and tin (used on circuit boards).]
Miller and other U-M professors from nursing, public health, business and social work have been helping to develop training and research programs at Panzi Hospital. The latest development in the relationship involves Mukwege's son, Alain, who earlier this year became a visiting scholar and research associate at U-M's School of Nursing.
The nitty gritty of research
Dr. Miller admits that she had no plans to even attend the lecture Denis Mukwege gave at the Wallenberg ceremony. Her research was focused on the U.S., not Africa. But the Congolese doctor changed all that.
 
"We bonded over our mutual interest in helping women whose bottom ends have seen the worst side of the world," said Miller, whose expertise includes recovery from pelvic tissue trauma in childbirth and the resulting physical and psychological distress.
 
After her first 10 days on the ground in Congo, it became clear to Miller that she could add the most value at Panzi Hospital by sharing her experience with research—the nitty-gritty, back-office side of things that most lay people take for granted or are unaware of. Such vital tasks include setting up systems for managing budgets, applying for grants, pairing researchers, establishing ethics review boards and assuring integrity in research methods.
 
Beefing up the research capacity is crucial for countries like Congo because they have as much to teach the world as they do to learn from it. The doctors at Panzi Hospital are treating cases that few physicians will ever see—horrific situations such as women, some very old, who have been violated with sticks, guns and knives. The physicians have created incredible ways to repair tissue, but their crushing caseloads leave them little time to share the expertise with the global medical community.
 
At U-M, a multidisciplinary team from the fields of nursing, epidemiology, business and social work was formed to figure out how to work with Panzi Hospital and its associated university, Universite Evangelique D'Afrique. The group eventually created the International Center of Advanced Research and Training (ICART). Launched with seed funding from U-M's Third Century Initiative, the center opened in 2013 and began developing training and research programs in Bukavu.
 
The Congolese doctor returned to Ann Arbor in 2013 to discuss ways to strengthen research linked to Panzi Hospital. But his visit was cut short when he was urgently called to the United Nations to be a signatory to a declaration on the elimination of sexual violence.
 
At the time, Alain Mukwege, who was earning a master's degree in clinical research at the Mayo Clinic, came to Ann Arbor to see his father. Miller said she was so impressed with the way the son so naturally filled his father's shoes during a strategic planning meeting the elder Mukwege couldn't attend.
 
As Panzi Hospital tries to attract and sustain more international partnerships, the hospital needs to be able to document its work with data, said Miller, who still travels to Congo and also hunts for funding needed to continue ICART's work.
 
"Everyone wants reports and evaluations of the many programs launched at Panzi. They want the statistics. They want the numbers," she said. "Meanwhile, Panzi physicians and nurses are very busy giving care, but they've got to be cranking numbers. It's a different skill set. Part of what we're doing at ICART is helping to build numbers that are correct, but not completely taking away from the caregiver's time."
The complete story
For the in-depth story written by William Foreman, which details challenges of living/working in a place known as "the rape capital of the world" and why anyone who uses a smart phone or laptop may unknowingly be using conflict minerals, please visit Michigan News.
People interested in supporting ICART can contact the U-M School of Nursing Office of Development and External Relations at 734-764-1545.