Dean's Research Day Draws Record Participation
The annual event highlights nursing research and inspires new ideas and collaborations.
"This event is to bring science to the community," said Kathleen Potempa, PhD, RN, FAAN, dean of the University of Michigan School of Nursing (UMSN) as she welcomed attendees of Dean's Research Day. The event had more than 200 participants including students, prospective students, alumni, faculty and staff.
"In the spirit of inter-disciplinary collaboration, this year's event included a broader cross-section of attendees from the U-M community such as the College of Engineering, School of Dentistry and Department of Psychology," said Dr. Deleise Wilson, chair of the 2015 DRD planning committee. 
"We had participants from
Eastern Michigan University, Western Michigan University, Calvin College, Hope College, and Hyung Hee University in Korea." Dr. Wilson also noted that nurses from Oaklawn and St. Joseph Hospitals attended the event.
Presentations:
The presentations followed the theme of this year's event, "From Molecules to Community: The Science of Pain," beginning with the fifth annual Suzanne H. Brouse lectureship presented by Susan G. Dorsey, PhD, RN, FAAN from the University of Maryland School of Nursing. Dr. Dorsey, who maintains a vigorous program of research focused on the molecular, cellular and genetic mechanisms underlying chronic pain, presented "Chronic Pain: New Mechanistic Insights into the Role for Brain-Derived Neurotrophic Factor-Mediated trkB.T1 Signaling."
Presentations continued by building from the molecules of pain through its role in the community and patient care with:
Why Doesn't My SNRI Stop My Neuropathic Pain? Janean E. Holden, PhD, RN, FAAN, UMSN Associate Dean for Research
Unraveling the Mystery of Neuropathic Pain Mechanisms Through Oncology-Based Clinical Research Ellen Lavoie Smith, PhD, APN-BC, AOCN, UMSN Assistant Professor
Pain Management in the Community, Carmen R. Green, MD, University of Michigan Health System
Posters: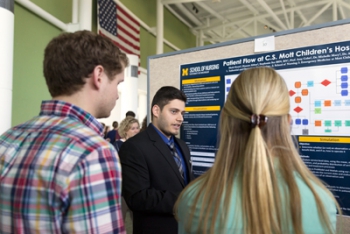 Nearly 30 posters were on display representing the research of faculty, students, alumni, and UMSN partnerships. Topics not only included the science of pain, but also chronic illness, sleep/health connections, sexual behaviors, pediatric care, global initiatives and health care systems organization.
"The posters reflect the important research and partnerships happening at the School of Nursing that will ultimately improve patient care," says Dr. Holden. "Many of them represent the translational science and research that improves evidence-based practice. It was also wonderful to see the strong showing of our Honors students and Hillman Scholars who represent the next generation of nursing scientists and leaders."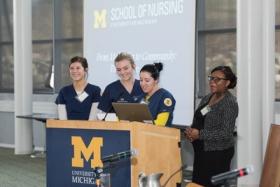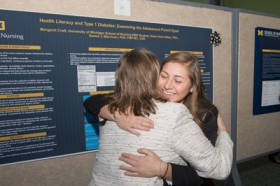 Student awards
1st place:
Health literacy and Type 1 diabetes: Examining the adolescent-parent dyad
Margaret Craft, BSN Honors Student; Dawn Dore-Stites, PhD; Donna Marvicsin, PhD, PNP-BC, CDE
2nd place:
Sleep and nighttime care in adult cardiac surgery
Aaron Zalewski, BSN Student, Hillman Scholar; Jesus M. Casida, PhD, RN, APN-C, CCRN-CSC
3rd place:
Changes in disease status and their effects on quality of life children with nephrotic syndrome: A Midwest Pediatric Nephrology Consortium study
Danyelle Cummings, BSN Honors Student; Jonathan Troost, PhD; Emily Herreshoff, CCRP; David Selewski, MD, MS; Debbie Gipson, MD
Faculty awards
1st place:
Effects of an RCT of interventions on use of hearing protectors among farm operators
Marjorie C. McCullagh, PhD, RN, PHCNS, COHN-S, FAAN; David L. Ronis, PhD; Tanima Banerjee, MS
2nd place:
Fear of the childbirth experience: A qualitative study
Lee Roosevelt, CNM, MPH; Lisa Kane Low, PhD, CNM, FACNM, FAAN
3rd place:
Self-schemas in the alcohol use disorders: An integrative review of the literature
Lisa Hoyland-Domenico, PhDc, RN; Stephen Strobbe, PhD, RN; Bonnie M.  Hagerty, PhD, RN; Bruno Giordani, PhD; Susan Pressler, PhD, RN, FAAN, FAHA
Students Choice
Parental opioid decision making for children with and without obstructive sleep apnea who underwent tonsillectomy and adenoidectomy
Frank Schymik, BSN Honors Student; Terri Voepel-Lewis, PhD, RN; Ellen Lavoie Smith, PhD, APN-BC, AOCN
Read more about the research of the UMSN presenters:
Dr. Janean Holden is using a $1.9 million grant from the National Institute of Nursing Research to investigate pathways in the brain, connections to pain and differences in acute and neuropathic pain.
A patient inspired Dr. Ellen Smith's ambition to improve patient care through research. Her work with the drug duloxetine has shown breakthrough success in relieving painful chemotherapy-induced neuropathy.