New methods address old question: What good is an apple a day anyway?
Despite what your mother told you about "an apple a day keeping the doctor away," it does not do the trick. The age-old aphorism may hold true for keeping pharmacists at bay, however.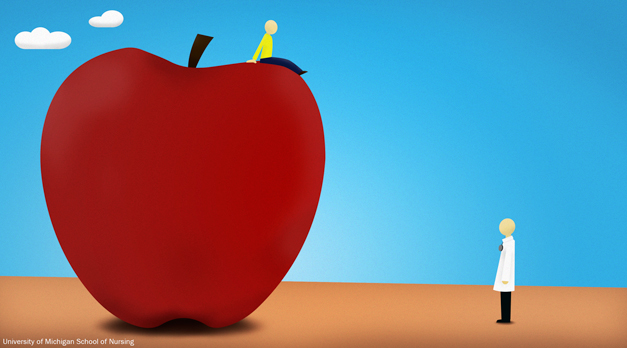 Researchers from the University of Michigan and Dartmouth College took a "big data" look at adults who completed the 24-hour dietary recall questionnaire in the National Health and Nutritional Examination Survey.
They identified the adults who are apple eaters – those who typically consume at least one small apple per day. The researchers concluded there are just over 19 million Americans who eat an apple a day.
They found that about 40 percent of adults who eat an apple a day kept the doctor away compared to 33 percent who do not eat an apple – which would prove the aphorism true. They also found, however, that adults who eat an apple a day had other healthy habits. After the researchers took these factors into account, eating an apple a day was not associated with keeping the doctor away.
After looking at other types of health care, the researchers actually found that eating an apple a day may help keep pharmacists away (48 percent of apple eaters compared to 42 percent of non-apple eaters avoided pharmacists). Results are published in the April 1 issue of
JAMA Internal Medicine
, "which spotlights scientifically rigorous but also humorous content," according to the
editor's note
.
"We would say that the association between apple consumption and 'keeping pharmacists away' was robust," said
Matthew Davis, PhD, MPH
, lead author of the study and an assistant professor at University of Michigan School of Nursing and a member of the U-M Institute for Healthcare Policy and Innovation. 
"The association persisted when we adjusted for people's health/healthy habits. This was not the case for apple consumption and doctor visits, because the association disappeared when our models accounted for health/healthy habits."
This study came about as a sideline to another project, where the researchers developed a technique using data collected by the Centers for Disease Control and Prevention (CDC) to look at exposure to toxic chemicals from different types of food.
"After working with the data for a couple months, it dawned on me that we had the means to determine (on the national level) whether or not an apple a day is actually associated with keeping the doctor away," said Davis. "If you were a medical researcher and figured out a way to study the oldest, most recognized proverb in the history of medicine – wouldn't you do it?"
The technique employed in the study, he said, can be used in the future and has real implications for doing important research about diet.
"In terms of what we found, it sort of depends on whether or not you take the proverb literally. If you interpret the apple as being more of a symbol of proper nutrition, I think everyone would agree that a healthy diet is a wise choice and will likely reduce your need for excessive medical services."
Media Advisory: To speak with corresponding author Matthew A. Davis, contact Laura Bailey at 734-647-1848
baileylm@umich.edu
or Mary Beth Lewis at 734-763-1682 sn-comm@umich.edu