March Highlights
From the fight against Ebola to exemplifying leadership, UMSN students, alumni, and faculty are at the forefront of advancing health.
Rankings and Results
--University of Michigan School of Nursing (UMSN) maintains its #6 position in
U.S. News and World Report's
rankings of the nation's graduate schools. For the first time, the magazine used statistical data on graduate nursing programs, in addition to peer assessment surveys. "Our school has outstanding graduate programs led by renowned faculty, and we appreciate this acknowledgement of our efforts and outcomes," said UMSN Dean
Kathleen Potempa, PhD, RN FAAN.
Six UMSN
master's specialty programs
also earned top ten rankings.
--UMSN continues its track record of impressive scores on the NCLEX exam, which is required for nurse licensure and certification. The following numbers reflect the annual 2014 scores:
UMSN               92.35%
Michigan           83.3%
National            81.79%
Accolades
--PhD candidate
Celeste Schultz received the 2015 Research Poster Award at the 36th Annual Conference of The National Association of Pediatric Nurse Practitioners held in Las Vegas, Nevada. Schultz's poster "Giving Children a Voice: Exploring Preschool-Age Children's Beliefs about Eating" represents her research exploring similarities and differences in the beliefs of children who are obese and those of a healthy weight, while also evaluating different methodological approaches for data collection.
--Congratulations to the students who participated in U-M's Dance Marathon, raising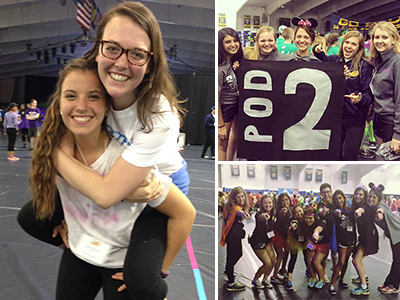 more than $460,000 in support of pediatric rehabilitation. Participating nursing students:
Katie Douglas
Abigail Grimm
Sarah Hoffman
Marni Jacobson
Jen Jarnot
Mariela Macedo
Grace Moore
Taylor Nicholson
Juliet Paterson
Alison Rossini
Caroline Rossini
Sammy Scoggin
Awbreigh Slagle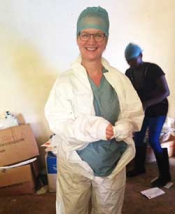 Global Outreach
UMSN master's alumna Belinda Fish (MSN '14) "couldn't pass up the opportunity to engage with such a huge public health problem" and recently spent more than a month treating Ebola patients in Sierra Leone. She shares her experience with
Michigan Today
.
New National Clinician Scholars Postdoctoral Program
U-M and three other top universities (Penn, Yale, and UCLA) are creating
new leadership opportunities
for early-career nurses and doctors. The Clinical Scholars Program (CSP) is designed to advance research and health care through team-based approaches with value on the expertise brought by both disciplines. The Early Action application due date is May 15.
Current Events
Dean's Research Day will be a day of celebrating nursing science and inspiring new ideas and collaborations. This year's theme is focused on pain science but will include widespread research topic areas. All are invited to attend this event which features the Fifth Annual Brouse Lecture to be presented by
Susan G. Dorsey, PhD, RN, FAAN
, associate dean for research at the University of Maryland School of Nursing. Dean's Research Day includes poster presentations, a panel discussion, and a reception. 3.5 nursing contact hours will also be provided.
Please register here
.
--UMSN's
Dr. Stephen Strobbe
will deliver his Golden Apple lecture
"Lessons from an Imperfect Life: A Premature Last Lecture" on March 31 at 7 p.m. at Rackham Auditorium. The
Golden Apple Award
is the only student-selected award on campus and honors teachers who inspire and engage their students in the pursuit of knowledge. All are welcome to
attend the lecture
.
--Two nursing projects are featured in the
"Learning in Real Life"
exhibit currently on display at the Hatcher library. One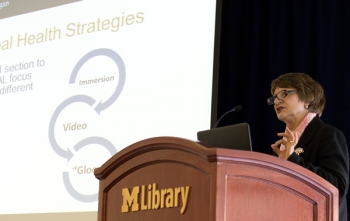 of the nursing projects was also featured in a panel discussion. "The presentations at the panel were all about helping students make connections," says UMSN Clinical Instructor
Norma Sarkar MPH, RN
, who represented the project
Community Health Nursing: Vision Through a Global Lens. "We were very happy to share our story of connecting Community Health Nursing to global health through immersion experiences, videoconferencing and working with local vulnerable populations." The second nursing project is "Digital Storytelling and End-of-Life Care," led by Clinical Instructor
Elizabeth Brough, PhD, RN
. 
The exhibit runs through April 14.
Save the Date
UMSN will celebrate the grand opening of our new building on September 18th. Details forthcoming. Contact: UMSN's Office of Development and External Relations: (734) 763-9710.