UMSN Students Part of Innovative Course Simulating Real-World Collaboration
The interprofessional course is the first of its kind at U-M and one of only a handful across the country.
"Our practice and research are interdisciplinary--but our education has not been." That message was one of the first presented to University of Michigan students in a new interdisciplinary course that includes students and faculty from the schools of nursing, dentistry, medicine, pharmacy and social work.
More than 250 students enrolled in the "Team-Based Clinical Decision Making" interprofessional education (IPE) course.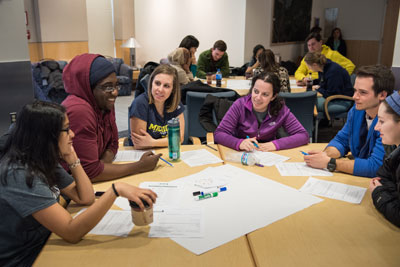 Students rotate through modules taught by interdisciplinary pairs of faculty at each of the five discipline specific schools. 
"Traditionally, the education of these students has occurred in silos, even though it is expected that they will practice and conduct research within interdisciplinary health care teams," says U-M School of Nursing (UMSN) Associate Professor
Cynthia Arslanian-Engoren, PhD, RN, ACNS-BC, FAHA, FAAN
,
one of the nursing faculty instructors.
"This course is designed to help health professional students gain an understanding of how each discipline contributes to the health care team, the importance of effective communication, and the role of team collaboration to clinical decision making," says Dr. Arslanian-Engoren.
"When providers are able to communicate respectfully and effectively, job satisfaction increases and burn out decreases, allowing for innovative solutions to be developed and implemented improving healthcare quality, safety and patient outcomes," says UMSN Clinical Assistant Professor
Michelle Pardee, DNP, FNP-BC
,  who serves as UMSN's lead faculty for the course and recommends making the course a requirement for all graduate nursing students.
"Interdisciplinary knowledge is the way of the future," says Elizabeth Eisenhauer, a UMSN doctoral student enrolled in the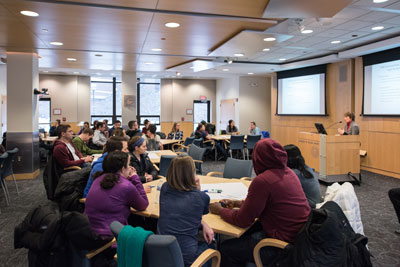 class. Eisenhauer, who has already experienced real world practice in a variety of clinical nursing positions, says she would support extending the course and making it a requirement for undergraduate students. "The course encourages students to confront their own and others' stereotypes about the various professionals represented in the course," says Eisenhauer.
"Nurses across all levels, are familiar with working in teams to provide care to patients and families," says Dr. Pardee. "This course provides nursing students an opportunity to provide information about nursing as a profession, and highlight roles and skills that are brought to the healthcare team. It allows nurses to gain new insight and appreciation for other professions that will enhance our ability to work as a team to provide high quality care to patients and families."
This course is the beginning of a broader movement on campus to transform the way U-M health professions students are educated.  A second interdisciplinary course,
Service Learning for Health Professionals
, assesses issues of health disparities and the medically underserved and includes 20 hours of service at a health center or community agency.
The IPE effort was recently awarded a U-M
Transforming Learning for a Third Century
(TLTC) grant to support expanded programs. The TLTC grant will be utilized (and matched) over five years by seven U-M health science schools: the School of Nursing, College of Pharmacy, Medical School, School of Dentistry, School of Kinesiology, School of Public Health, and School of Social Work.