School of Nursing Professor Surprised with U-M's Golden Apple Award
The honor is the only student-selected teaching award on campus.
Dr. Stephen Strobbe's Wednesday morning was off to a routine start when a student presentation in his "Mental Health &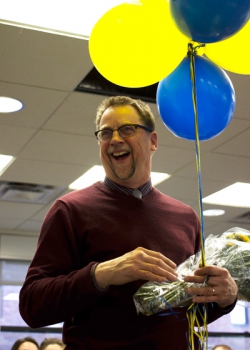 Illness Across the Lifespan" class took an unexpected twist. Instead of talking about the material, the students began sharing their appreciation for
Dr. Strobbe
. Before he knew what was happening, the Golden Apple committee, complete with apple costumes, balloons, flowers, and even Dr. Strobbe's favorite doughnuts, paraded into the class and announced the news.
 "I'm moved beyond words," said an emotional Dr. Strobbe, but ever the comedian quickly quipped, "This is the best diversionary tactic you could have come up with, but we're still taking the midterm today." (He wasn't kidding about that!)
The Golden Apple Award and Lecture is a way of honoring teachers who consistently deliver lectures as if as if it were their last and strive to inspire and engage students in the pursuit of knowledge. Students can nominate the teacher of their choice.
Here are a few of the comments from the nursing students who nominated Dr. Strobbe:
"He truly inspires the students to do their best work, not just for the grade, but for the experience and knowledge."
"Dr. Strobbe brings vast knowledge and understanding of the intricacies of [mental health and illness] to every lecture but perhaps more importantly, he brings humanity and empathy to both his teaching style and nursing practice."
"The sensitivity and respect with which he handles extremely challenging topics such as sexual assault, suicide, addiction, abuse, and mental illness sets such an excellent example for us nursing students as future healthcare leaders."
"He strives to do everything in his power to help each student learn and succeed."
"The way he structures his course really illustrates that he wants us to truly explore the material and use it in a meaningful way."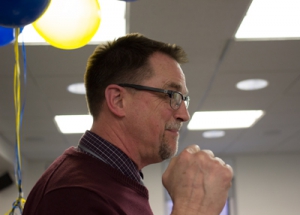 Dr. Strobbe will deliver his Golden Apple 
"Lessons from an Imperfect Life: A Premature Last Lecture" on March 31 at 7 p.m. at Rackham Auditorium.
Dr. Strobbe is a clinical associate professor at the School of Nursing and Department of Psychiatry.  He is the second School of Nursing faculty member to receive this award. Professor
Carol Boyd
was selected in 1996.