Global Health Emphasis Expands at UMSN
New opportunities are available for students to increase their cultural competency on campus and beyond, and faculty showcase curriculum enhancements.
--The University of Michigan School of Nursing (UMSN) is increasing global health opportunities for students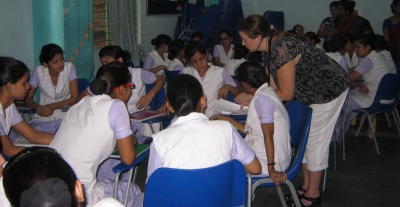 with the addition of a three-week immersion experience in India.  Twelve to sixteen students will be able to travel to Salokaya College of Nursing in New Delhi, thanks to an India Initiative Award from U-M's Office of the President and additional support from the Center for Global and Intercultural Study (CGIS). This global health care experience is part of N421, an elective seminar open to all eligible U-M undergraduate students. U-M students will spend two weeks learning side by side with Salokaya students, supervised by Salokaya and UMSN faculty, at clinical sites in and around New Delhi.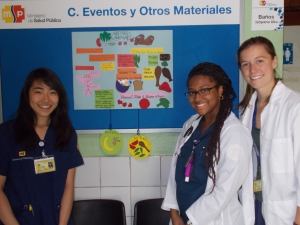 The elective seminar has a separate option for an immersion experience in Ecuador, which is also open to all eligible U-M undergraduate students. The course focuses on issues that directly and indirectly affect health in low- and middle-resource countries. Students will work in Ecuadoran health care clinics, tour specialty and basic hospitals, and stay with local families. The
UMSN global health experience
in Ecuador has been in place for several years and has been positively evaluated by faculty and students.
Both the Ecuador and the India immersions may be used to fulfill part of the clinical requirement for N456, Community Health Nursing. This option is intended for current juniors, who would take a special spring 2015 section of N456 and complete all the course requirements before the start of their senior year.
The application deadline is December 15.
--A new videoconferencing project with the University of Botswana (UB) will begin in the winter term of N456. Clinical Instructor
Judith Policicchio
will lead the UMSN section while UMSN alumna and UB faculty member
Dr. Nthabi Phaladze will lead the course in Botswana. This project is funded by a "Global Teaching with Videoconferencing" grant  from the U-M Vice Provost for Global & Engaged Education. 
--"
Engaging the World from Your Classroom
," showcased global efforts on campus and featured a poster presentation, "Globalizing the Community Health Nursing Curriculum," from UMSN Clinical Instructors
Norma J. Sarkar, MPH, RN
, Amber L. Dallwig, MSN, RN, and Judith Policicchio. The poster focused on UMSN's efforts to increase global opportunities for nursing students, primarily in community health nursing courses. Sarkar also participated in a panel discussion focusing on the topic. Another poster featured a grant-funded joint project "Promoting Oral Proficiency: Ann Arbor and Oaxaca," between UMSN's Director of Global Outreach, Dr. Leslie Davis, and Maria Dorantes, U-M Spanish Language Lecturer. The event was sponsored by Vice Provost for Global and Engaged Education, James Holloway.
--Students, faculty, and staff trying to improve Spanish language skills are invited to ¡Lunch Break Español! It is held every Wednesday from 12 – 1 p.m. in Nick's Café, in 300 N. Ingalls. All levels are welcome. Contact Jesica Pedroza (
jpedroza@umich.edu
) with questions.
UMSN's
Office of Global Outreach
works to facilitate student learning, research, and service. Students are encouraged to connect with Global faculty and staff to learn about opportunities and support for expanding their international health competencies. Call
(734)763-6669, stop by Suite 4320 in the School of Nursing,.