UMSN Works on Improving Diversity in Health Care with Opportunities for Young Students
Along with preparing the next generation of nursing leaders, UMSN's special two-week summer program focuses on the next, next generation of leaders.
"You come into the program and don't know anyone so it's a little nervewracking, but it's a great experience because you learn so much about health care," says Sonia Avalos, a high school senior from Texas. She was one of 13 high school students who participated in the University of Michigan School of Nursing (UMSN) Exploring Nursing as a Career for Tomorrow (EnAct) program.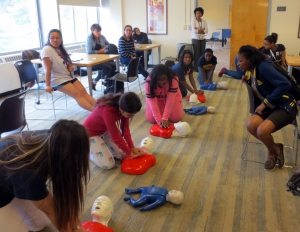 The two-week program brings students from across the country to U-M's Ann Arbor campus to learn about various careers in health care. Participants shadowed health professionals, toured local clinics and the University of Michigan Health System, and received CPR training.
"I want to work with babies and pregnant women," says Lachelle Lee, a high school sophomore in Flint, Michigan. "I've been thinking about it for a year or two but wasn't really sure of what way to work with them. As the program went on, I feel like nursing fits."
"Many of these students remarked that they didn't know what nurses did," said Patricia Coleman-Burns, PhD, MA, GENESIS program director and UMSN assistant professor. She encourages students who want to pursue nursing, or any other health care field, to get serious about their studies even if college seems far away. "This experience is an opportunity to motivate students to return to their classes in the fall and buckle down to strengthen their STEM [science, technology, engineering, and mathematics] course focus."
"We definitely learned that you have to set certain goals if you want to become a nurse," says Avalos.
The EnAct program ran in conjunction with the BEST (BootCamp for Entering Students' Training) summer
program. Both are part of Gaining Excellence in Nursing Education: Strength in the Sciences III (GENESIS), funded by a $1.5-million grant from the U.S. Department of Health and Human Services, Health Resources and Services Administration (HRSA) Nursing Workforce Diversity program. Participants of GENESIS represent diverse ethnic and racial backgrounds, with the high concentration from African American/Black, Latino, and Asian American students.
While EnAct is focused on younger students who are still exploring possible career fields, BEST students are freshman or transferring sophomores who will be attending UMSN in the fall. These students receive academic and financial support for their education. During the summer programs the groups attend many of the same activities, but some are specialized for each group as the BEST students have already committed to a career in nursing. Four students participated in the BEST summer program and two of them are previous EnAct participants. "This illustrates that the EnAct program yields students who can ultimately gain admission into UMSN,"says Alecia McCall, PhD, GENESIS III Project Coordinator. "EnAct is a successful pipeline program."
For the program's closing ceremony, each student prepared a poster or electronic portfolio to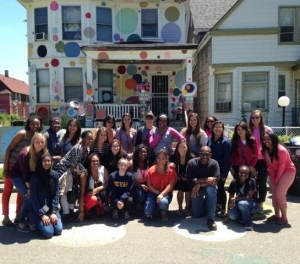 present. "Tangible academic deliverables like the e-portfolios and poster presentations are a highlight of this year's program," says Dr. Coleman-Burns. "We believe these students are now much better prepared for an education and career in health care due to the caliber and quality of the program and the emphasis of take-away skills such learning styles, skills and stress assessments, and ACT/SAT prep."
The GENESIS program is run by staff and volunteers, including UMSN students who previously participated in the summer programs and some who are higher level students and are still a part of BEST.
UMSN plans to run the EnAct/BEST summer programs again in Summer 2015. Please check nursing.umich.edu in the spring for more details or contact Alecia McCall, PhD, GENESIS III Project Coordinator at (734) 764-8658 or MccallAM@umich.edu.