Hillman Scholars Explore New Collaborations
UMSN hosts PhD students from the three universities in the prestigious program for its 2014 annual meeting, focused on "Nurses as Designers"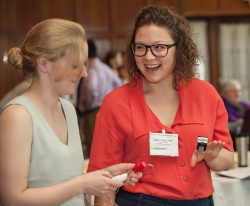 The 26 Hillman Scholars from the University of Michigan, University of North Carolina and University of Pennsylvania converged for a three-day meeting held on U-M's Ann Arbor campus in May 2014. The theme, "Nurses as Designers" was selected to encourage the scholars to explore new ways of thinking about how design and technology, and partnerships with disciplines such as engineering, can improve health care.
The Hillman Scholars Program in Nursing Innovation is a rigorous program for BSN students to transition directly into the PhD program with the intent of giving them longer career trajectories to increase the impact of nursing research on health care. These scholars are deemed the next generation of high-impact nurse leaders and researchers.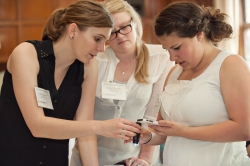 The annual meeting included a session with designers from Little Devices at MIT. The lab combines engineering, biology and global health to create and revolutionize technologies that can improve patient care outcomes. The designers, Jose Gomez-Marquez and Anna Young, also lead MakerNurse, a nursing-focused innovation program supported by the Robert Wood Johnson Foundation. MakerNurse was created to better support inventive nurses.
"I think it was great just to meet other scholars pursuing the same goal," says UMSN Hillman Scholar Jessica Marsack. "This program is rigorous, so it's nice to be around others who understand the struggle; being with like-minded people can rejuvenate our interests and reinvigorate our passions."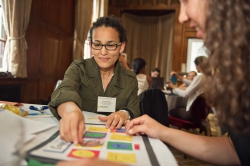 The robust annual meeting schedule was designed to include small group sessions for scholars from all three schools to share their ideas and research goals, discuss potential improvements to health care (such as what the ideal health care system of the future would look like), and ways to press research forward in challenging times.
"I'm amazed by the variety, depth of knowledge, and wit that was shared,"
says UMSN Hillman Scholar Leontine Wallace. "I'm so excited about the current work that we are individually doing, and what it collectively means to be encouraging a culture of innovation and questioning."
The annual meeting also included time for the visiting scholars to explore Ann Arbor and campus highlights such as the U-M Museum of Art, Michigan Stadium and several well-known restaurants.
More photos on Flickr.