Doctoral Students Represent UMSN at Jonas Scholar Leadership Conference
The event brought together current and future nursing leaders focused on improving health through research, education, and policy.
"Most conferences that I've attended are mostly professionals with some students, but the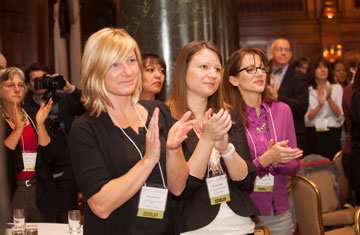 Jonas Scholar Leadership Conference was meant for students," says University of Michigan School of Nursing (UMSN) Ph.D. student and Jonas Nurse Scholar Amanda Schuh. "It was a great opportunity to interact with other students to see where they are in their programs and their research."
The Jonas Center for Nursing Excellence has supported more than 260 students from across the country as part of its mission to develop outstanding faculty and advance scholarship.
Nearly 200 of those students attended the second Jonas Scholars Leadership Conference, including Schuh and fellow UMSN Ph.D. student Amanda Fore, a Jonas Veterans Healthcare Scholar. It was held in October 2013 in Washington, D.C., and ran concurrently with the American Association of Colleges of Nursing's (AACN) Fall Semiannual Meeting, attended by hundreds of nursing deans.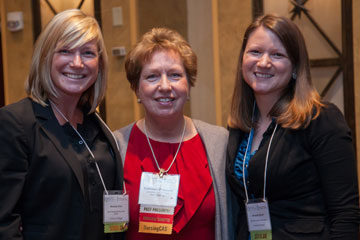 "It was great because the Jonas Center arranged for us to have time with the deans," says Fore. "Being able to speak with them and get their advice was an invaluable opportunity."
Fore is studying patient safety with a focus on how it impacts veterans. "Part of the Jonas mission is bringing the Institute of Medicine's Future of Nursing Report into our work," she says. "I'm working on the recommendation that nurses should be leaders at every level, so I'm studying situational awareness and how nurses on the floor perceive, comprehend and project what they are going to do if there is a problem. It includes a component of empowerment, so if a nurse thinks something is going wrong, as a nurse leader they should speak up."
While Fore says she believes patient safety should be a priority in all health care systems, her time working at a Veterans Affairs hospital inspired her to focus on veterans. "It's unimaginable to have our American veterans fight for us, then come back to the VA system and have them die of medical error, especially something that could have been prevented," she says. "Working with the veterans is a way to give back to them. To be able to help their safety has a special feeling for me."
While the Jonas Center supports a wide variety of research, Schuh has also found an interest in the military. She focuses on the family unit, specifically how children and adolescents in military families cope with stressors such as deployment or when a parent returns with issues such as post-traumatic stress disorder. Schuh is working to assess interventions aimed at helping develop and foster family resilience.
"Since my involvement with the Jonas Center, I've started to think about policy more," says Schuh. "I've realized how important it is to think about how to actually get research into clinical practice and the community. I'm also more aware of thinking 'How can my work impact local and state policy? How can this impact nursing practice?' And not just in nursing but in psychology or public health, thinking more broadly." Schuh was recently profiled in U-M Health System's "The Future I Want to Create" series of statements by promising students in the health sciences.
Both Fore and Schuh say meeting Barbara and Donald Jonas, founders of the Jonas Center, was a highlight of the conference. "I feel very fortunate to have their support," says Fore. "It was really inspirational to meet them and to see how passionate they are about improving health care."