UMSN Strengthens Peace Corps Partnership with Addition of Paul D. Coverdell Fellows Program
Returning Peace Corps volunteers will bring their experience and skills to campus and the community.
The University of Michigan School of Nursing (UMSN) is proud to offer the Paul D. Coverdell Fellows Program to returning Peace Corps volunteers who are interested in pursuing a master's degree. UMSN will award up to two $10,000 fellowships each year to new students. "The Coverdell Fellows Program is a means of recruiting candidates who have served in developing countries and have an understanding of global health issues," said Leslie Davis, Ph.D., UMSN's Director of Global and Community Outreach. "They bring language skills, experience with diverse populations, and they are accomplished in providing care with fewer resources."
Peace Corps volunteers may not always have a clinical experience, but are generally involved in health education and community resource building. The Peace Corps requires a 27-month term of service so the volunteers experience a long-term immersion with an international community.
As part of the Coverdell Fellows Program, the students are expected to complete an internship or clinical placement related to their area of interest in an underserved local community. The intention is for those students to use the knowledge and skills developed abroad to improve people's lives in the United States. Clinical placements could include sites such as Community Health and Social Services (CHASS), Shelter Association of Washtenaw County, Ozone House, or Arab Community Center for Economic and Social Services (ACCESS) Health Clinic.
Dr. Davis expects these students to be excellent representatives of UMSN. "Peace Corp volunteers tend to be leaders," she said. "They are people who stuck out what can be a very difficult experience. They are accomplished and capable of achieving great things."
The program advances a goal of the Peace Corps "to help promote a better understanding of other peoples on the part of Americans." Originally called Fellows/USA, the program was established in 1985, to help returned volunteers support underserved American communities while pursuing their graduate education. Dr. Beryl Levinger, a returned volunteer, helped create the program by promoting volunteers' innovative and practical ideas about education, sensitivity to cultural differences and tenaciousness in adverse conditions. The pilot program began with returned volunteers working as teachers in New York City Public Schools. 4,000 returned volunteers have participated in the program.
The University of Michigan and the Peace Corps have a unique relationship. In 1960, then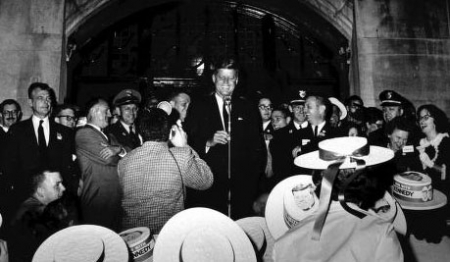 Senator John F. Kennedy challenged students at the University of Michigan to promote peace by living and working in developing countries. That speech led to the development of the Peace Corps. U-M is now the fourth largest producer of Peace Corps volunteers with more than 2,500 alumni having served.
U-M now has five schools partnered with the Coverdell Fellows program. Along with UMSN, the Penny W. Stamps School of Art and Design and School of Social Work are also new partners. The Schools of Natural Resources and Environment and Public Policy have offered the fellowship since 2007.
Please contact sn-mastersadmissions@umich.edu if you have questions about the program.
Photo Source: News and Information Services (University of Michigan) records, E-4. Folder: Peace Corps