UMSN Utilizes Language Grant on Campus and Beyond for Students and Faculty
The funding is being used in a variety of ways, including developing videos, to improve the way future nurses deliver care.
An essential component of the Bachelor of Science in Nursing curriculum is developing the ability to assess and address the linguistic needs of diverse patient populations, according to the American Association of Colleges of Nursing. However, nursing students generally do not have the option of traditional semesters abroad because of their clinical
schedules.
That's why the University of Michigan School of Nursing (UMSN) Office of Global Outreach (OGO), with funding from the U.S. Department of Education's Undergraduate International Studies and Foreign Language (UISFL) grant program, is creating and funding new opportunities for UMSN undergraduates to participate in international learning experiences and foreign language training. 
UMSN's six-week immersion program, Spanish for Health Care Professionals, which took place for the first time in Spring 2013, is based at Instituto Cultural Oaxaca (ICO) in southern Mexico. Nursing undergraduates and Literature, Science and the Arts (LSA) pre-medical students lived in home-stays and took intensive language classes for four weeks at ICO, followed by a two-week community service learning experience. Antonia Villarruel, Ph.D., RN, FAAN, UMSN Associate Dean for Research and Global Affairs, worked with ICO to arrange the community placements.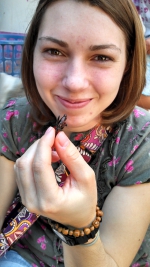 The students were accompanied by Rosemary Ziemba, Ph.D., RN, UMSN faculty lead for Community Health Nursing. Dr. Ziemba completed the ICO language program herself to improve her own Spanish. Support for the group was provided by Bruno Renero-Hannan, a U-M Ph.D. student in History and Anthropology who has been conducting research in and around Oaxaca for two years. Dr. Ziemba has been working with clinical instructor Norma Sarkar, MPH, RN, who also received grant funding to work on her Spanish language skills, to incorporate intercultural learning through a range of opportunities, including virtual classroom sessions with Haiti and a clinical field experience in Quito, Ecuador.
Another class section for students with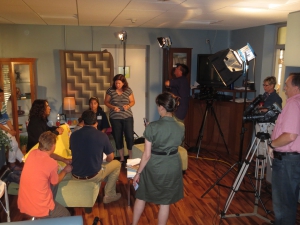 intermediate Spanish proficiency will be offered in 2013-14; participants will have field experiences in monolingual Latino communities in Southeast Michigan. It will be one of three groups piloting new interactive learning tools created by UMSN Clinical Assistant Professors Michelle Aebersold, Ph.D., RN, and Dana Tschannen Ph.D., RN. They are working with U-M language instructor Maria Dorantes, to design a supplemental set of video case studies focusing on the experiences of Spanish-speaking patients and requiring students to adapt their language skills to clinical settings. The videos are inspired by "The Neighborhood," an online program currently being used at UMSN in which students experience virtual simulations involving an online community of patients, families and health agencies. In July 2013, UMSN students and actors filmed a variety of mock clinical scenarios with Spanish speaking patients and family members.
"I was really impressed by the dedication and abilities of the 'actors' who worked with us on the set," says Dr. Aebersold. "We had current and former UMSN students and volunteers from the local area that played roles and did a wonderful job portraying the characters. This will be a great learning opportunity for our students."
"The simulations will provide students with an opportunity to practice their Spanish skills in a non-threatening environment," adds Dr. Tschannen. "Students will be able to view the video scenes multiple times with additional opportunities to reflect on how they might respond to the patient using their language skills."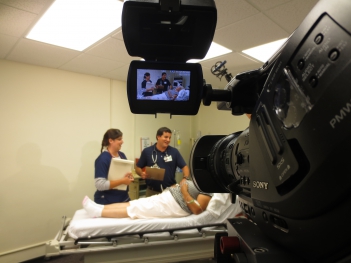 Two UMSN clinical instructors experienced in simulation learning will pilot the new videos in their undergraduate classes: Libby Brough, Ph.D., RN, who frequently uses the technique of "flipping the classroom," in Nursing 465 (clinical intensive for Second Career BSN students); and Cindy Fenske, DNP, RN, CNE, a nationally recognized expert on the methodology of teaching with simulation tools, in Nursing 356 (Health and Illness in Young, Middle and Older Adults).
The new videos are expected to be in use for students in the Fall 2013 term. "I think the students will really benefit from the video simulations developed to both practice their Spanish skills and improve their clinical judgment and patient centered care skills," says Dr. Aebersold. "This has been a great opportunity to develop a learning opportunity for our students that will benefit their patients in the future."
"Many of our multilingual students will be asked to assist with communication and teaching with non-English speaking patients in their future careers," says Dr. Tschannen. "This project provides these students with a great opportunity to practice those skills, integrating their language proficiencies with the nursing profession."