"We weren't in the field taking blood pressures; there is so much more to nursing than that." (Video)
UMSN students join water purification effort to help residents in high flood-risk areas of Mexico.
"This project was appealing because of the opportunity to work with a multidisciplinary team on a project that would have concrete deliverables," says 2013 University of Michigan School of Nursing (UMSN) graduate Denise Soulliere. "To see policy change from your effort, on top of helping individuals, is extremely rewarding."
Soulliere and fellow recent UMSN graduate Angela Wan were part of the 2013 Clean Water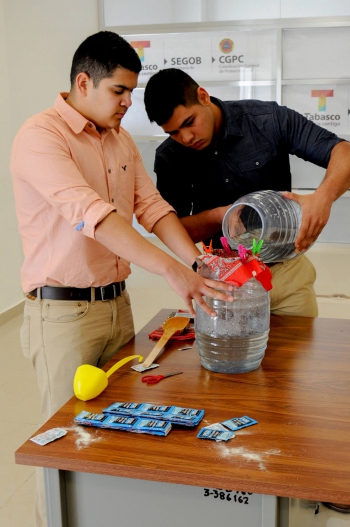 Project Team that included three U-M medical students and three cadets from West Point U.S. Military Academy. The project was part of U-M Professor Noel Tichy's Eleanor Josaitis Global Initiative at Focus: Hope [
note: program name updated
] and U-M Medical School's Global Reach. The team also partnered with local stakeholders in Mexico 
The team focused on how the Procter and Gamble (P&G) Purifier of Water product could be incorporated into emergency relief protocols. It's a single-use sachet that can purify water by killing bacteria that cause illnesses--including cholera and typhoid fever--and removing viruses and other harmful substances. Each sachet can purify 10 liters of water, which is typically enough to supply a household for one day.
"Population health is very important to me, so it was a logical fit for me to delve into the world of water in disaster preparedness," says Wan, who has participated in several international U-M programs focused on community health. "The P&G Purifier of Water not only provides water to people who lack access, but it is more cost-effective and environmentally favorable than traditional bottled water." 

Mexico was selected as a pilot area because almost all of Mexico's states are subject to some flood risk--a major problem in many parts of the country, especially during heavy summer rainfalls. The team focused on the state of Tabasco, where more than half of the population live in an area considered high risk for flooding. Many of the communities are isolated during flooding emergencies and are very hard to reach, especially with bulky supplies such as bottled water.
The team spent more than three weeks developing a protocol for the distribution of sachets to more than 100,000 of the people deemed most vulnerable to flooding. They also developed a storage and distribution plan and guidelines, including an emergency manual, for community leaders to educate households on use of the sachets.
 "I learned a lot about working with a multidisciplinary team that may have more or less schooling or job experience than you, and finding strengths in each member to produce a strong, collaborative team," says Soulliere. "I also was able to gain mentorship personally from multiple members, learning things like how to facilitate meetings with people whose primary language isn't English."
Wan says the experience was an opportunity to put some of the skills she learned in the classroom to work. "We uncovered many of the community health nursing principles from Nursing 456 in the course of the project," she says. "We saw how emergency response first comes from local coalitions directly in our meetings with stakeholders. Our communication skills, reputation as nurses, and scientific evidence of the efficacy of the P&G Purifier of Water bolstered the team's credibility when we met with nonprofit, private, and public organization leaders to form partnerships around the product."
The team concluded that the sachets have tremendous potential to help people in an emergency, but there is still much to be done to ensure they are in place before an emergency, recipients know how to use them properly, and people understand the connection between clean drinking water and improvements in health.