2013 Dean's Research Day Events, Photos, and Poster Winners
It was a memorable day of shared findings, fellowship, and philanthropy for the future of practice-changing research.
More than 200 nursing scientists, students, alumni, and friends gathered at the University of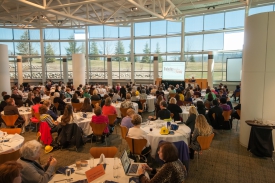 Michigan North Campus Research Complex on April 5, 2013, for the annual U-M School of Nursing (UMSN)
Dean's Research Day.
Improving Family Health Through Practice-Changing Research
was the theme of the afternoon-long celebration (which followed the morning groundbreaking for UMSN's new academic facility).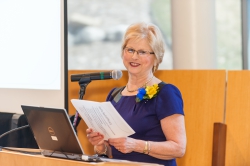 The third-annual Suzanne H. Brouse Lecture was first on the program, delivered on the topic of family management in chronic illness by Dr. Janet Deatrick of University of Pennsylvania School of Nursing. Distinguished alumna Dr. Brouse (BSN '58) was on hand, and she noted that bringing in outside experts gives students wider access to new research and helps "prepare them to become leaders in nursing."
Next,
MinKyoung Song, Ph.D., RN, FNP-BC
, was installed as the inaugural Suzanne Bellinger Feetham Professor at UMSN and spoke of gratitude for such a wonderful opportunity for an early-career scientist. "Humbled as the first Feetham Endowed Professor, I reflect on her inspirational mentorship as the launch to my big-picture goals," said Dr. Song. whose research focuses on physical activity associated with diabetes and cardiovascular disease prevention and management.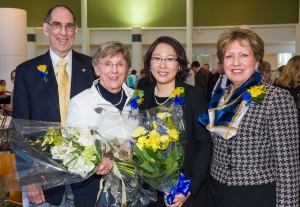 Distinguished alumna Dr. Suzanne Feetham (BSN '62) explained how her own career in academia, health systems, and government inspired funding of the term professorship for Dr. Song. "Nursing has gained social will as the most trusted profession, and nursing research arises from our practice," said Dr. Feetham. "Let's effect policy now!"
Three presentations by current U-M faculty researchers followed after a short break:
Practice-Changing Research: How Do We Get There? - Daniel J. Clauw, M.D., U-M Professor of Anesthesiology, Internal Medicine, and Psychiatry
Treating the Patient-Caregiver Dyad as the Unit of Care - Laurel Northouse, Ph.D., RN, FAAN, UMSN Mary Lou Willard French Professor of Nursing

Breaking New Ground: Engaging the Community in Research With Homeless Families - Barbara Brush, Ph.D., ANP-BC, FAAN, UMSN Associate Professor
Award-winning research posters explore pain, stress during pregnancy, physical activity in adolescents
Nearly three dozen posters were submitted to the University of Michigan School of Nursing's Dean's Research Day from faculty and students. They represented a wide variety of research topics, such as hearing inventions for youths that work in agriculture settings, predictors of muscles tears during childbirth, and hospital nurse staffing efficiencies.
Although the majority of participants were from the School of Nursing, there was also a strong showing from other disciplines--including pharmacy, medicine, physical therapy, and social work--representing an increasing spirit of collaboration.
First Place: Measuring Vincristine-Induced Peripheral Neuropathy (VIPN) in Children With Leukemia UMSN Assistant Professor Ellen L. Smith, Ph.D., ANP-BC, AOCN; Lang Li, Ph.D.; Raymond J. Hutchinson, MD; Elizabeth Wells, MD; Richard Ho, MD; William B. Burnette, MD; Patricia L. Robertson, MD; Celia Bridges, BA, BSN, RN; James P. Kelly; Karin Thomas; Jamie Renbarger, MD, MS.
"It's not really about winning for me," says Dr. Smith. "It is about having opportunities to work with other people with varying perspectives and expertise to create new knowledge that will help patients. I love learning new things by working with smart people, and I love being able to share the research experience with students. This project was meaningful to me because it led to the discovery of new knowledge, it helped others to learn new things, and in the process, we have done something good for patients."
Second Place: Hypothalamic Modulation of Nociception: Differences in Dose, Sex, and Pain Type UMSN Ph.D. student Monica A. Wagner, BS, RN; J. R. Moes; S. Kuhnke; UMSN professor J. E. Holden Ph.D., RN, FAAN
Third Place: Caring for Women with Post-Traumatic Stress During Pregnancy: What Do Providers Need to Learn? Kristen R. Choi, BSN Student, Hillman Scholar; UMSN Associate Professor Julia S. Seng, P.hD., CNM, FAAN
Students' Choice: Performing Recommended Physical Activity and Insulin Sensitivity by Body Mass Index Among U.S. Adolescents: NHANES 1999-2006 UMSN Assistant Professor MinKyoung Song, Ph.D., RN, FNP-BC; Dianna D. Carroll; Giuseppina Imperatore; Carl J. Caspersen; Janet E. Fulton
"It was very meaningful to me to receive the award from the students," said Dr. Song. "They are our future nursing researchers and leaders who are very bright and eager to learn new things every day. Moreover, they have so much potential to contribute to future nursing research. I also see that this might be a good doorway for me to connect with our undergraduate students along with graduate students."
Learn more about the winners: