UMSN Hosts Visiting Professor from Sydney, Australia
Hillman Scholars benefit from Dr. Patricia Davidson's insight into decades of nursing leadership and education.
June 21, 2013, UPDATE: Dr. Davidson has been named dean of Johns Hopkins University School of Nursing, effective Sept. 1, 2013.
In March, Patricia Davidson, RN, BA, MEd, Ph.D., visited the University of Michigan School of Nursing (UMSN) to meet with the six students in the inaugural cohort of UMSN's Hillman Scholars program. The program supports students on an accelerated path and early introduction to research. Upon completion of the Bachelor of Science in Nursing degree, Hillman Scholars enter a three-year Ph.D. program.
Dr. Davidson shared her advice on making an impact through research, publications, and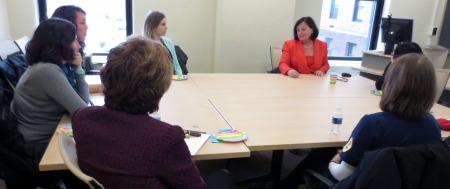 improving patient care during the meeting with the Hillman Scholars. She also met with members of the Hillman Coordinating Committee. "I think it's a wonderful idea, and we have a similar program in Australia," said Dr. Davidson. "Problems facing health care need urgent solutions by the brightest and the best, and we just don't have 10-15 years for these ideas to germinate. We have to be much more strategic in the people we develop. There's been many brilliant people but their opportunities have been ad hoc and fragmented, whereas this gives targeted individuals access to strategic initiatives."
Dr. Davidson kicked off her week-long visit UMSN with a presentation on "Aging with the Patients: Lessons I Have Learnt." Dr. Davidson was able to discuss a wide variety of topics due to her expansive body of work and experience as Director of the Centre for Cardiovascular and Chronic Care at the University of Technology Sydney (UTS) and Professor of Cardiovascular Research at St Vincent's Hospital Sydney.
Dr. Davidson believes one of the most important lessons for students to learn is the impact they can have beyond the bedside. "You have to go beyond individual patients to affect real changes that will improve patient outcomes," she said. She encouraged faculty and students to engage in policy and be prepared for potential opportunities to promote nursing causes. "It's about recognizing the power you have as an individual and also the role nurses have in society for driving improvements."
Dr. Davidson's visit is one element in a growing relationship between UMSN and UTS. UMSN Dean Kathleen Potempa, Ph.D., RN, FAAN, visited UTS and gave a presentation in December 2011. Susan Pressler, Ph.D., RN, FAAN, FAHA, UMSN professor and Associate Dean for Graduate Studies and Program Director, was a visiting professor in Sydney. Also, one of the Australian doctoral students came to UMSN for consultation.
Dr. Davidson believes the United States and Australia can benefit from collaboration in many ways. "It's about learning how things can be done differently. Australia can learn a lot from the business models in the U.S. that have been efficient. I know there's a lot of negative press about universal health care, but I think the big advantage in terms developing innovative interventions in the U.S. is the capacity for coordination across systems. There will be a lot of upcoming opportunities for nurses to lead changes that will improve patient outcomes."