UMSN Faculty Nominated by Student for Global Leadership Award
Lecturer Norma Sarkar, MPH, RN, was honored at Council on Global Engagement Reception.
University of Michigan School of Nursing (UMSN) senior Angela Wan nominated UMSN lecturer Norma Sarkar for a University of Michigan leadership award after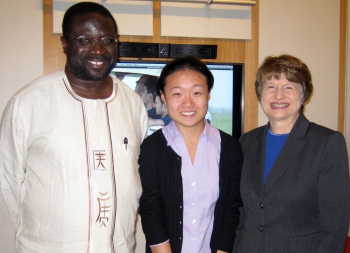 an inspiring trip to Ghana as part of Nursing 421 Perspectives in Global Health. Wan also nominated Kofi Gyan, U-M Program Manager of the International Family Planning Fellowship Program, who helped lead the trip.
"I nominated Norma because she was a great example of interacting with cross-cultural health professionals in a novel culture," said Wan. "She displayed strong active listening, eagerness to learn, and teamwork with Kofi Gyan, our other faculty lead. Her motto was 'flexibility' and that open-minded attitude towards new and complex experiences has been a life-changing inspiration. The trip solidified my passion for primary prevention, environmental health, and population health."
"It was truly an honor to be nominated for this global effort," responded Sarker. "As faculty, we strive to make a difference with our students and it is so rewarding to be recognized for our efforts and reminded of the impact of our teaching."
The Council on Global Engagement is comprised of dozens of members from 35 different schools and organizations within the University of Michigan. The collaborative council works to improve international experiences for faculty, students, and the university's global partners.
In total, 53 staff and faculty members were honored at the reception. Each will receive a certificate from the Council on Global Engagement. The reception was part of International Education Week.