First UMSN Student Named Jonas Nurse Leaders Scholar
Amanda Schuh, a UMSN doctoral student & graduate student instructor, will focus her research on military families.
Amanda Schuh has extended family in the military, but says it was research she did as an undergraduate that really sparked her interest. Her initial research involved military wives during deployment periods. As her interest grew, she became more focused on children and adolescents in military families.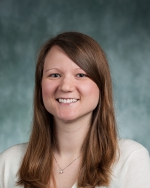 Schuh's research will involve military coping and adaptations to stressors for military children, as well as the development of family resilience. She said, "It's common that a parent is deployed and comes back with a variety of issues. It's not always physical injuries but there are hidden injuries, such as traumatic brain injuries or Post-Traumatic Stress Disorder. I want to study how that affects the rest of the family, specifically how the children are dealing with these things."
The Jonas Nurse Leaders Scholars Program is dedicated to developing outstanding faculty, advancing scholarship and sparking innovative practice. Schuh welcomes the opportunity to have a multi-level career. She said, "As a Jonas Nurse Leader Scholar, I am honored for the opportunity to receive mentoring and support for my research, while becoming involved in policy issues on a state and national level. Awareness of policy is important because it affects your education, career, and research. As a future PhD prepared nurse, I plan to do research, teach, and maintain a clinical practice. I really want to do a little of everything and nursing allows you to do that."
UMSN Associate Professor, Dr. Bonnie Hagerty is Schuh's advisor and believes her research shows great promise. Dr. Hagerty said, "Amanda was also awarded the American Psychiatric Nurses Association Scholarship in recognition of her potential for scholarship in the field. She is an excellent student who is very involved in UMSN activities and working with faculty as a research assistant and graduate student instructor."
While Schuh may be the first Jonas Nurse Leaders Scholar, the UMSN is also proud to recognize two UMSN PhD students who are Jonas Veterans Healthcare Scholars, Dusty Filliung, APRN-BC and Amanda Fore, RN, MS. Filliung's area of research focus is functional outcomes in older adults with chronic disease which will apply to the aging veteran population. Fore's research focus is patient safety and quality improvement; specifically situational awareness, decision making, missed nursing care, and patient outcomes.