Inaugural Hillman Scholars Begin Their Journey
Six University of Michigan School of Nursing (UMSN) students are forging a new path to impact future generations of researchers.
The 2012 fall semester marks the first term of The Hillman Scholars Program in Nursing Innovation at the University of Michigan. The $3 million grant is awarded to only three universities. "At the end of the day we're looking for more than just a top ranked nursing school. We were seeking an institution willing to take risks, willing to rethink and expand on traditional notions of a nursing Ph.D.," said Ahrin Mishan, Executive Director of the Rita and Alex Hillman Foundation. He continued, "With a highly skilled and interdisciplinary faculty and a culture of inquiry committed to linking research with real-world solutions, we expect the University of Michigan, along with our other Hillman partners, to lead the way in shaping a new generation of nurse leaders."
The selected students will earn their PhDs in about five years through this rigorous, research-intensive program. Even from the application process, which includes faculty interviews and an evaluation, it was clear this program attracts high-achieving students.
Dr. Susan Pressler
,
Associate Dean for Graduate Studies and Program Director said, "All of the students we interviewed were tremendous and it became obvious we had a group of really strong nursing students who were very interested in developing careers in research and science and improving care. They are the hope of the future for nursing."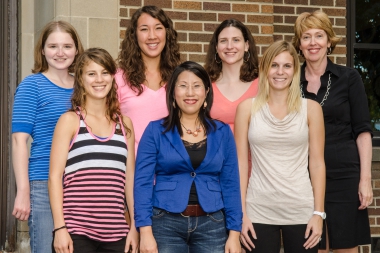 The six Hillman Scholars bring diverse backgrounds and research interests to the program. Three of the scholars, Kristen Choi, Jordan Harrison and Joslyn Jackson are currently juniors at the UMSN. Emily Neff, Allison Grekin, and Daphne Sy are part of the Accelerated Second Career program. Each student is paired with one or two faculty advisors to guide them in their exploration of new areas of research including underserved populations, cardiovascular care, women's health, sexual well-being, and prevention of abuse.
Dr. Pressler believes the five year grant marks an important achievement for the UMSN, which has continually added new programs as it leads the way in nursing education. She said, "This is another significant undertaking that will keep our curriculum, student body and faculty inspired and energized."
Research and innovation are hallmarks of the Hillman Foundation. The foundation focuses on creating doctoral nurse leaders who are prepared to apply science that will be at the forefront of health care. The students are expected to strive for research that can affect important changes in policy. The accelerated path and early introduction to research, facilitated by the grant, are ways to help these students get a head start on the science that will improve the health of the public.
Dr. Pressler added, "The program will be unique for each student as they learn about innovation and research and how new ideas are created. These students are being tasked with generating some big ideas and pushing for dialogue and research. They are going to be thinking of ideas many of us in my peer group have never envisioned, so that's exciting."