Office of Global Outreach (GO) Promotes New Summer Immersion Program in Ghana
On Thursday, September 23, the
Office of Global Outreach
(OGO) participated in the Global Education Fair, organized by the U-M
Center for Global and Intercultural Study
. The Fair hosted over 40 U-M units and departments who either offered programs for global travel or provided support services students wishing to study outside of the United States.
Representing the School of Nursing was Karl Krupp, a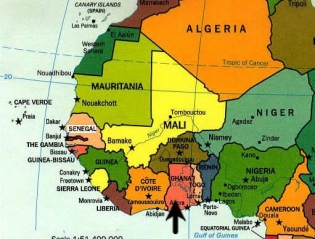 Project Manager for GO. Karl's primary objective at the Fair was to promote the study abroad program to Ghana that the School is offering this summer. Taking place May 31-June 17, 2011, the supervised immersion trip will introduce students to the healthcare delivery systems of Ghana while they earn credit towards their degrees. The trip will be led by Dr. Jody Lori (Director of Global Outreach) as well as a second faculty member and will focus on the concepts of health promotion and risk reduction within the public sphere. A highlight of the program, says Krupp, is that all students' will be provided with "home stays," where each student is paired with a family who provides lodging in their home for the duration of the student's trip. Krupp explains that a wonderful aspect of traveling to Ghana is that, in his experience, the people are very welcoming; therefore, actually living in their homes is one of the best ways to be immersed in the culture and to get the most out of traveling to another part of the world.

It's important, explains Krupp, that nursing students not think of global study opportunities as being unavailable to them because of their rigorous and tightly scheduled academic curriculum: "If you look around this Fair, most of these programs are for the summer, 4 or maybe 8 weeks. Nursing students could probably do something like that." Plus, he adds, experience studying or working outside of the country looks great on resumes so it can actually add to the future opportunities a nursing student might have.
Students enrolled in
Nursing 421
(offered as an elective in Winter 2011) are eligible to participate in the Ghana immersion program. Students must submit an application packet which includes:
An application form
2 recommendation letters – one from a U-M faculty member and another professional reference
A resume
For more information on eligibility requirements and to obtain an application form, contact Karl Krupp (kfkrupp@umich.edu, (734) 615-9640, Room 4334).