Ways to give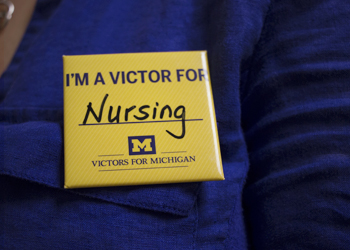 Your support of the School of Nursing is vital and truly appreciated. There are a variety of ways to make a gift (cash, securities, or real estate), from outright donation to planned giving.
A major gift can be spread across several years or done as an investment that will produce income for the donor or designee. The school's Office of Development and Alumni Relations can help determine how to ensure that a gift supports a donor's interests, and will share information about possible tax advantages.
We appreciate you! The School of Nursing is sincerely grateful for gifts that help the school fulfill its mission. With declining public support, the school can only maintain its excellence through private donations.
Cash pledges
You may wish to make a gift of cash or appreciated assets now and realize tax benefits immediately. Gifts of any size are needed. Pledges are welcome and may be paid over an established time frame.
Gifts that provides income to you or designee
You may wish to make a gift that will produce income that will go to you or your designee for rest of your life. Such a gift can also provide some immediate as well as estate tax benefits.
Gifts that pass money to heirs
You may wish to make a gift that will make a gift of interest to the school during your lifetime (or for a set period of time) and then pass the bulk of the gift - plus interest - to your heir or heirs. You will receive gift credit now as well as tax benefits.
Bequests
You may wish to make a lasting gift to the school but need all of your assets during your lifetime. You can make a bequest now as part of your estate plan and become a member of the U-M Monteith Society.
For more information about making an immediate or planned gift to the School of Nursing, please contact the Office of Development and Alumni Relations, (734) 763-9710; nursingalum@umich.edu.
University donor recognition
Annual Giving, Partners in Leadership

Lifetime Giving, Presidential Societies

Bequest Giving, The John Monteith Society