Elizabeth Kuzma, DNP, FNP-BC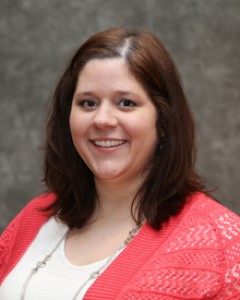 Clinical Assistant Professor
Department of Health Behavior and Biological Sciences
Room 3181 400NIB
University of Michigan School of Nursing
400 North Ingalls Building
Ann Arbor, MI 48109-5482
Telephone: (734) 647-0149
Fax: (734) 763-0681
Scholarly Expertise / Activity
Interests:
Adolescent health
Health policy
Underserved populations
Professional advocacy
Dr. Elizabeth Kuzma is a Family Nurse Practitioner and currently practices in the University of Michigan Health System (UMHS) Regional Alliance for Healthy Schools (RAHS) clinic at Pathways to Success Academic campus. In this practice, she works with vulnerable and underserved youth for their health promotion, primary care, and acute care needs. Dr. Kuzma teaches in the Health Behavior and Biological Sciences Programs. Dr. Kuzma's research and scholarship focus includes a variety of adolescent health issues, particularly related to sexuality and gender identity.
Current Research Grants and Programs:
Gilbert Whitaker Grant, Humanizing Technology to Improve Clinical Readiness for Advanced Nursing Students (CO-I)
School of Nursing, Dean's Centennial Seminar Series (CAsCAid Study Group): Proposing a seminar series to underpin team science with "high-ACE youth" (Group Member)
Office of Adolescent Health (OAH) capacity building grant, SexLab, University of Michigan School of Nursing (UMSN), and the Adolescent Health Initiative (AHI) at U-M (Evaluation partner)
Center for Research on Learning and Teaching (CRLT), Faculty Development Fund - Integrating Trauma Informed Practices into Nursing Education (PI)
Teaching
Dr. Kuzma teaches in the first and second year graduate level clinical courses with Primary Care Adult-Gero, Family, and Pediatric Nurse Practitioner students. In addition to her classroom work, she serves as a clinical preceptor and mentors graduate students during various courses throughout their program at the School of Nursing. She serves as a guest lecturer in many of the Primary Care courses. As an educator, Dr. Kuzma believes that expressing and demonstrating her passion for nursing and the nurse practitioner profession is essential to educate and motivate future nurse practitioner students.
Affiliations / Service
American Academy of Nurse Practitioners (AANP), Member, 2010-present (State Representative for Michigan 2014-present)
Michigan Council of Nurse Practitioners (MICNP), Member, 2004-present (President 2011-2013; President Elect Ann Arbor Chapter 2009-2011; Member, MICNP Legislative Outreach Circle; Member, MICNP Public Relations Committee)
National Organization of Nurse Practitioner Faculty (NONPF), Active Member, 2012-present
Midwest Nursing Research Society (MNRS), Member, 2013-present
Michigan Chapter Society for Adolescent Health and Medicine, Active Member, 2013-present
U-M MICNP Student Chapter, Faculty Advisor, 2015-present
Ann Arbor Public Schools, Sexual Health Initiative For Transformation Grant Advisory Board, Member, 2015-present
JAANP Peer Reviewer, Content Reviewer, 2015-present
U-M School of Nursing, Standardized Patient Work Group, 2016-present
U-M Interprofessional Education Curriculum Committee, Motivational Interviewing Work Group, 2016-present
Notable Awards / Honors
AANP State Award of Excellence, 2012
Michigan State University Recent Graduate Excellence Award, 2012
AANP Foundation Grant Award, 2010
Education
DNP, Wayne State University, 2014
MSN, Michigan State University, East Lansing, MI 2008
BSN, Michigan State University, East Lansing, MI 2003
Publication Highlights
Kuzma, E., & Peters, R. (2015). Adolescent vulnerability and the need for youth friendly health care: The nurse practitioner's role (accepted for publication). Journal of the American Association of Nurse Practitioners.

Munro, M. L., Dulin, A. C., & Kuzma, E. (2014). Update on Plan B emergency contraception and the nurse's role. Nursing for Women's Health.