Welcome to UMSN's Memory Lane
As U-M School of Nursing celebrates 125 years of nursing excellence, we invite you to take an online trip down UMSN's Memory Lane. You'll find photos and more showcasing the achievements, challenges, and memorable moments that built the foundation for today's highly ranked School of Nursing.
We Want to Hear From You!
Do you recognize anyone in these photos? Let us know! Do you have a picture to share? Alumni, faculty and staff are encouraged to send their comments and photos to
sn-comm@umich.edu
. Please include as much information (names, location, year, etc.) as you can.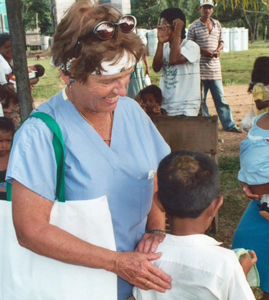 Nancy Gillette in Nicaragua
A UMSN alumna from the class of 1964, Nancy Gillette began volunteering with the Red Cross at disaster zones after a nursing career in pediatrics, OB-GYN, hospice and school nursing.
---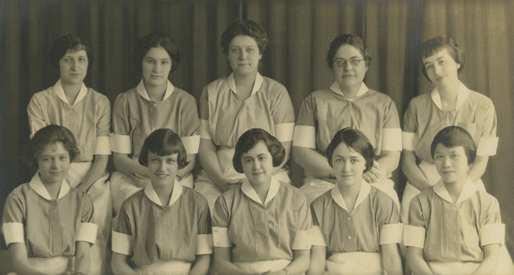 Class of 1927
Above is the lovely U-M Nurses Training school class of 1927. Photo is courtesy of Jessie R. Booth's family. Jessie is in the top row, second from right.
---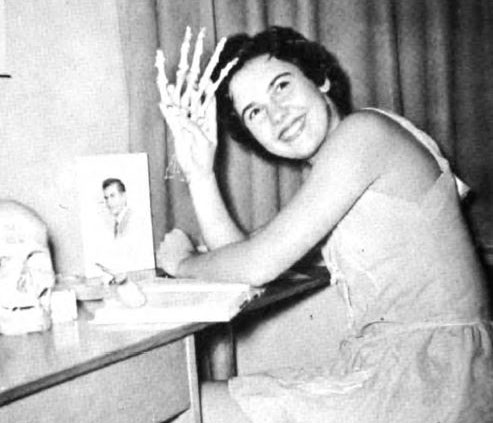 "Handy, Wouldn't You Say?"
A nursing student gets some "hands-on" assistance while studying for exams in 1958.
---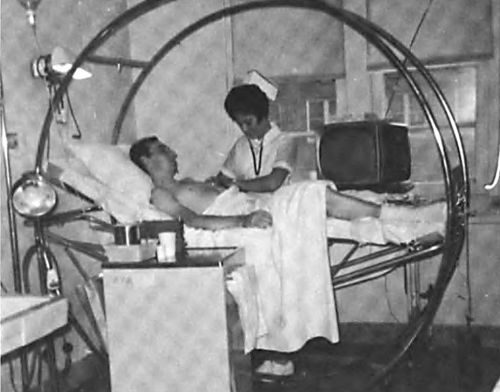 Moving Patients
This 1968 photo shows a nurse taking care of a patient on a circoelectric bed. The bed was used to move and turn patients who could (or should) not move themselves.
---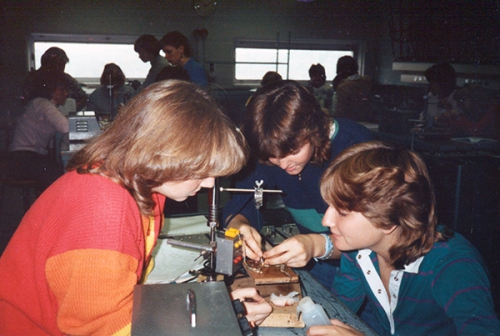 In the Lab
Nursing student Mary Jo Raftery, with classmates Ann and Amy, conduct an experiment in their 1985 Physiology lab. The experiment focused on muscles and the strength of their contractions. Thank you to Mary Jo for sending UMSN the photo.
---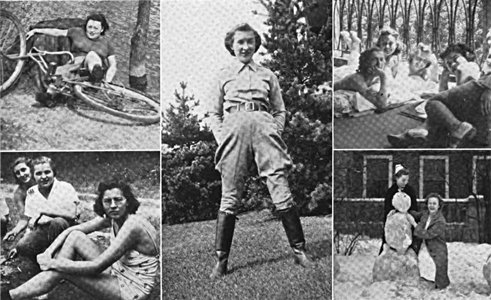 1940s Fun
"Activity? To be sure! Everything from high dives to cozy bull sessions… Quite a contrast this sun-assimilation to the snow man in the front yard; but we like the variety which adds the spice, and sun tans, and snowmen. Our back porches display many such enthusiasts who too often become woefully red but by the end of summer we admire many a tanned hide." Nurses today would likely advocate for sun block over sun tans, but this caption from the U-M 1940 Scalpel yearbook captures the notion of the time.
---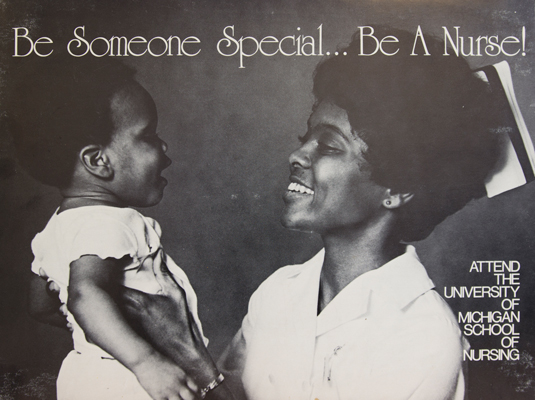 Be Someone Special... Be a Nurse!
The message from this 1970s promotional material still rings true today. Pictured is alumna and former faculty Dr. Retha Wellons.
---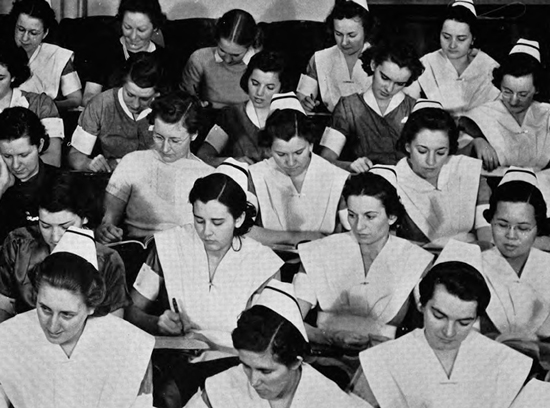 Uniforms in Class
This photo from U-M's 1939 Scalpel Yearbook was accompanied by the quote "
'Tis education forms the common mind;
Just as the twig is bent, the tree's inclined," from the English poet Alexander Pope.
---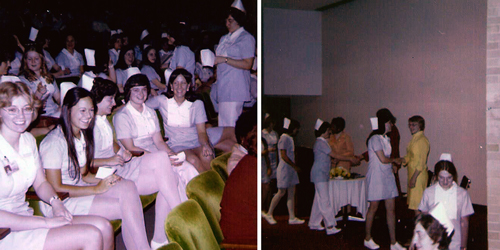 Changing Trends
Alumna
Mary Lynn Morris Harrison sent UMSN these photos from her s
ophomore striping ceremony in the spring of 1976. It was held in the "still-very-new" Towsley Auditorium. Mary Lynn says "Cutting off the uniform skirt to wear it with white pants was a new and very controversial thing. You can see I was clearly in the minority."
---
Lamps and Capping Ceremonies
Capping ceremonies were held to mark the end of the nursing students' probationary period. The ceremony was considered a highly meaningful transition into the nursing profession. The "Florence Nightingale lamp" was often incorporated into the ceremony. Soldiers nicknamed Nightingale the "Lady with the Lamp" because she carried it with her while making her rounds. While the actual lamp she used was shaped more like a lantern, this lamp has become a symbol of Nightingale. These photos are from U-M's 1943 Scalpel yearbook.
---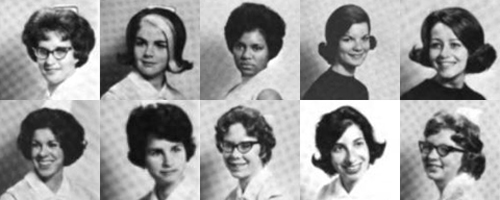 Bouffants and Nursing Caps
The 1960s saw a great deal of interesting hairstyles such as bobs, afros and pageboys. UMSN students from the aforementioned decade earned their degrees in style.
---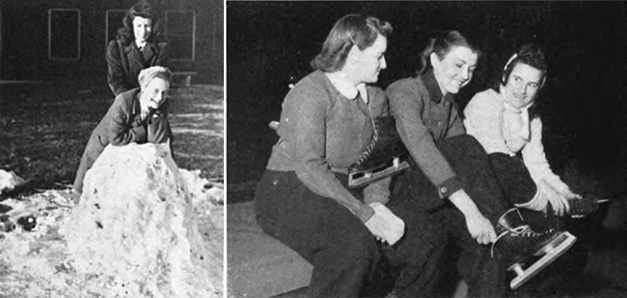 Winter Fun
Some UMSN students have fun in the winter. Photos from the 1940s.
---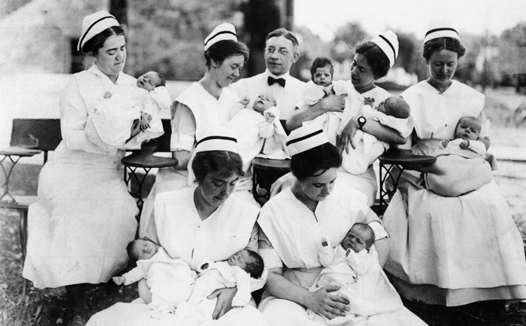 Maternity Students with Instructor
Elba L. Morse, maternity nursing instructor, with U-M Training School nursing students in 1915. Elba, a graduate of Peterson's Hospital Training School in Ann Arbor, devoted more than 50 years to the care of women and children. She was inducted (posthumously) into the Michigan Women's Hall of Fame in October 1990- the first nurse to receive this honor. Back row, l-r, Elba Morse, Madge Kniffen, Dr. Loomis, Pearl Dowe, Belle Ellis; front row, l-r, Hazel McFayden and Olive Sutherland.
---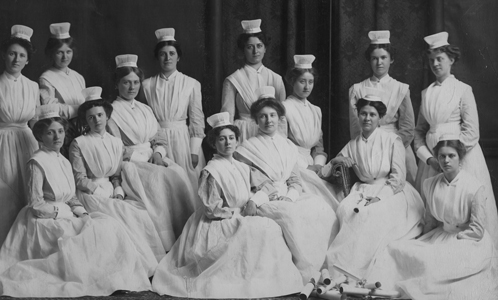 Nurses in Uniform
---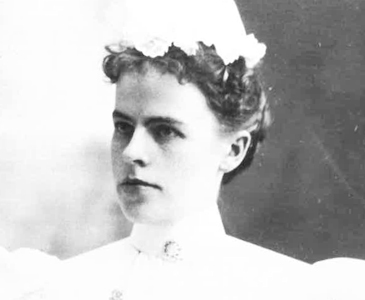 Anna Harrison
Anna Harrison was a member of the first graduating class in 1893. It was then known as the University of Michigan Training School for Nurses. She would later serve as superintendent of the school.