125 Years of Global Impact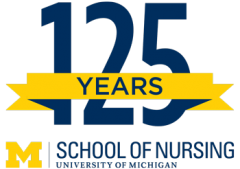 Innovative Scholarship
Faculty participated in the 125th anniversary of the school in 2016 in a number of ways. The
Dean's Seminars for Creating the Next Era of Impact funded faculty- and student-led community dialogue around contemporary issues in science, health, and innovation.
The school published a book on the evolution of graduate-level nursing science, edited by emerita professor Dr. Shake Ketefian and including chapters by a number of UMSN faculty, including former dean Kathleen Potempa.
Shaping Nursing Science and Improving Health The Michigan Legacy
is available online.
Innovations on Global Health Conference
UMSN held a major international conference in connection with annual Research Day on
April 5,
2016, linking the two events as one Symposium on Global Health: 125 Years of Research and Impact.
On April 6-7, 2016, U-M faculty and alumni, top nursing scientists, and global health leaders gathered for the Symposium on Global Health. The first session, "Nurses as Global Leaders," included keynotes by
Vanessa Kerry, MD, on health care workforce development for resource-limited countries in order to improve local care delivery systems
Siriorn Sindhu, DSc, professor of nursing at Mahidol University in Bangkok, on women's empowerment as a key aspect of women's health
Michelle Dynes, PhD, on her experience delivering care on the front lines of the Ebola crisis.
The second session of the conference focused on "Universal Health Care in the Pan American Region" and included keynote addresses by
Annette Mwansa Nkowane, MA, on the role of the World Health Organization in advocating for universal health care access in a number of different countries
Rosemarie Josey, MSN, on the role on nurses in leading the fight for universal health care access in the Americas.
The symposium was well-attended and provided a meaningful opportunity for scholars, students, nurses, and community members to come together and discuss cross-cutting global health topics.
Memory Lane
Take a trip down
memory lane
through historical images and milestones. Drop us a line if you have any photographs you could contribute or can identify anyone in the photos!