Accolades
Fall 2016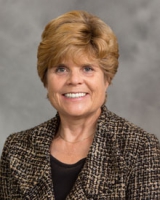 Clinical Assistant Professor Deborah Price, DNP, MS, RN, was selected for the American Association of Critical Care Nursing (AACN) Research Abstract Award. Dr. Price's award is for her work "Self-perceived Assessment of Knowledge, Attitudes and Behaviors about Palliative and End-of-life Care amongst Interdisciplinary Health Care Professionals." The study focused on a comprehensive assessment to identify deficits in providing palliative and end-of-life care to hospitalized patients. Dr. Price found educational needs may be different depending on factors such as experience of staff, and she recommended interventions be focused on improving communication, collaboration and decision-making behaviors between the disciplines, with earlier palliative care consultation. Dr. Price will receive her award and is invited to present her findings at the National Teaching Institute in Houston, TX, in May, 2017.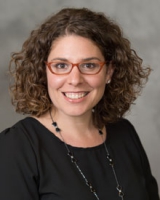 Assistant Professor Deena Kelly Costa, PhD, RN, was selected for a National Institutes of Health Clinical Loan Repayment Program award from the National Heart, Lung and Blood Institute. The awards are highly competitive and help to ease the financial burden of educational loans for early-career scientists. The program will repay up to $35,000 annually of a researcher's debt in return for a commitment to engage in NIH mission-relevant research. Dr. Costa's work already fits those terms as her program of research focuses on improving outcomes for critically ill adults. Her work specifically examines how to optimize the ICU interprofessional team's ability to deliver high quality care to mechanically ventilated adults by understanding who is part of the team and how these team members work together.
Stephen Strobbe, PhD, RN, PMCNS-BC, CARN-AP, a clinical associate professor at UMSN and U-M's Department of Psychiatry, was inducted as a Fellow in the International Academy of Addictions Nursing. The ceremony took place during the 40th Annual Educational Conference of the International Nurses Society on Addictions (IntNSA). During the conference, Dr. Strobbe was also inaugurated as the President of IntNSA and will serve a two-year term. Dr. Strobbe (center) is pictured with past IntNSA presidents Dr. Diane Snow and Dr. Bill Lorman.
Spring/Summer 2016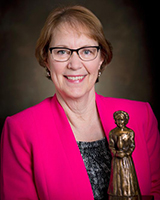 Clinical Assistant Professor Barbara Freeland, RN, DNP, ACNS-BC, CDE, received a 2016 Nightingale Award for Nursing Excellence in Education administered by Oakland University School of Nursing and its Board of Visitors. The annual ceremony honors and celebrates nurses for their leadership, quality care, innovation and advocacy. The Education Award is given to a professional nurse who demonstrates innovative education activities or contributes to quality patient care through research. Dr. Freeland does both, using her more than 40 years of experience in patient care to teach her students advanced methods to improve patients' health education, literacy and self-care. Dr. Freeland is also an advocate for people with diabetes. She has developed diabetes education programs recognized by the American Diabetes Association and has focused her research on the knowledge and attitudes of nursing students towards diabetes self-care.
Winter 2016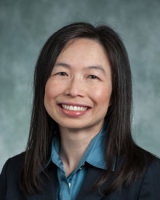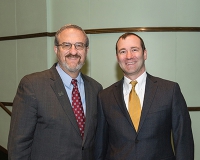 Assistant Professor Christopher Friese, PhD, RN, AOCN, FAAN, is a recipient of U-M's 2016 Henry Russel Award. It recognizes early-career faculty members who have demonstrated excellence in scholarly research and teaching. It is considered one of the highest honors for junior faculty at U-M. Dr. Friese's research focuses on the measurement and improvement of care for cancer patients, and on safety for health care workers who handle potentially hazardous drugs. Dr. Friese is the first nursing faculty member to win the award since it was created in 1926. Dr. Friese (r) is pictured with U-M President Mark Schlissel at the award ceremony.
Fall 2015

UMSN faculty and alumni are well represented in new initiatives that the American Association of Colleges of Nursing (AACN) has formed to promote greater engagement of nurses in the health policy arena and develop new thought leaders for the profession. UMSN Associate Professor Olga Yakusheva is on the Health Policy Advisory Council, which is chaired by UMSN alumna Julie Sochalski (BSN '75, MS '79, PhD '88), now on the faculty of University of Pennsylvania. Clinical Assistant Professor Christine Anderson is part of the Faculty Policy Think Tank.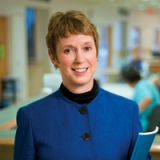 Marita Titler, PhD, RN, FAAN, is among 70 new members named in October 2015 to the National Academy of Medicine (formerly the Institute of Medicine) of the National Academies, one of the highest honors in the fields of health and medicine. Dr. Titler is a professor and the Rhetaugh G. Dumas Endowed Chair of UMSN's Department of Systems, Populations and Leadership and an internationally known scholar in health systems research. Through her work, she seeks to understand why some implementation interventions are effective in translating research into practice in some contexts of care delivery, while others are not. She directs the National Nursing Practice Network, a community of more than 100 practices and health systems across the U.S. committed to the promotion and implementation of evidence-based practices to improve health care and population health. Three other U-M health experts were elected in the 2015 class, and the university now has 54 past and present members of the NAM on faculty.
UMSN Clinical Associate Professor Michelle Aebersold, PhD, RN, has been selected as a 2015 American Academy of Nursing fellow, and will be inducted at a October 17 ceremony in Washington, D.C. She joins more than 30 UMSN faculty members to receive this prestigious honor. Fellows are selected based on significant contributions to nursing and health care, sponsorship by two current fellows, and a review by a panel of fellows. In addition to Dr. Aebersold (who directs UMSN's state-of-the-art new Clinical Learning Center), 2015's FAAN class of inductees includes U-M Nursing alumni Suzanne Miyamoto, Jeff Adams, Tondi Harrison, and Laureen Smith. The induction ceremony takes place during the Academy's annual policy conference, which is also traditionally a time of associated nursing research, policy, practice, education, and professional events in the nation's capital.
Summer 2015
Spring 2015