New grant on health, safety, and chronic disease welcomes first pre-doctoral fellows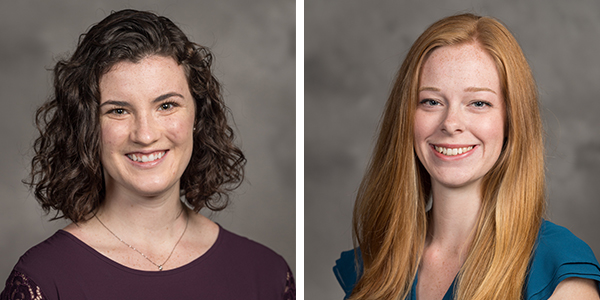 Two incoming University of Michigan School of Nursing Ph.D. students, Clare Donohoe and Katelyn Webster, have been selected as pre-doctoral trainees on a National Institute of Nursing Research (NINR) T32 training grant.
The grant, Complexity: Innovations in Promoting Health and Safety (CIPHS), provides funding for pre- and post-doctoral training for nurse scientists to develop innovative approaches to: promote health and safety, prevent development of chronic conditions, and help people with chronic conditions live well with chronic illness.
Donohoe's research interest focuses on promoting wellness among children and adolescents with cancer. Her faculty mentor is Ellen Smith, Ph.D., APRN, AOCN, FAAN.
Webster will study quality of life among those with chronic conditions, and her faculty mentor is Janet Larson, Ph.D., RN, FAAN.
Trainees will address individual- or population-based interventions designed to promote health and safety, prevent chronic illness, and to enable individuals to live well with chronic illness.
The grant focuses on promoting health and safety in areas such as adolescent health, workers' health and safety, fall prevention, prevention of obesity and diabetes, and sexual health.
It also focuses on promoting health in the context of chronic conditions, such as physical activity, pain management, management of symptoms of cancer survivors, and improving quality of life.
Marita Titler, PhD, RN, FAAN, is the program director for the grant. Marjorie McCullagh, PHD, RN, APHN-BC, COHN-S, FAAOHN, FAAN, is the associate program director.
"UMSN is a great place to do this research because of the depth of talent among our faculty in research that promotes health and safety, prevents chronic disease, and promotes resilience in those who already have chronic illness," Titler said.
"Fellows who come here will be studying with some of the best investigators in the country, and will be able to draw on team mentorship," explained Titler. "Our Ph.D. program marries coursework with deep mentorship and high expectations for publications and presentation."
The grant provides funding for eight pre-doctoral and two post-doctoral trainees over five years. Twelve-month funding allows the fellows to focus intensively on research during their Ph.D. program.
Questions regarding the grant or the research can be directed to Titler (mtitler@umich.edu) or McCullagh (mcculla@umich.edu). Applications are currently being accepted for post-doctoral fellowships.