Department Spotlight: Diversity, Equity and Inclusion at UMSN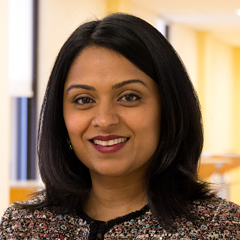 Rushika Patel, UMSN's new senior director of diversity, joined the school this fall and has hit the ground running.
Just this month, Patel has arranged two trainings for staff on unconscious bias to be held in room 1330, 400NIB. These are on Tuesday, March 28 from 8:00-9:30 a.m., and Friday, March 31 from 12:00-1:30 p.m.
In addition, her immediate plans include the creation of three committees to address DEI objectives. They are: Committee 1, for training and events; Committee 2, for mapping existing DEI related resources, processes, and commitments throughout UMSN; and Committee 3, to advise the ongoing work of assessing administrative aspects of the DEI plan.
She believes that diversity, equity and inclusion are principles of standard practice, and excellence of any institution or community depends on these principles. She also believes that UMSN will accomplish inclusion only as a community, and wants to work with each and every one of the staff as much as possible.
Patel's background is varied. After finishing her undergraduate degree, Patel taught in Detroit Public Schools for two years, and then travelled to Japan where she taught English. She then spent time in Southeast Asia and a year in Ahmedabad, India, the place of her birth. She returned to the United States and began her graduate studies with a focus on social justice and education.
Patel served as the director of the Women's Educational Center at UM-Flint prior to joining UMSN. She holds a Ph.D. in Educational Policy Studies and Organizational Leadership of Global Studies from the University of Illinois at Urbana-Champaign, a master's in Social Justice Education from University of Massachusetts-Amherst, and a BA in Sociology/Race, Class and Gender Studies from University of Michigan-Ann Arbor.
She encourages you to reach out to her at
rushika@med.umich.edu
if you have questions, and hopes you will be willing to serve on one of the committees.