Jasmine Johnson honored for commitment to inclusive school environment
Senior nursing student wins 2017 MLK spirit award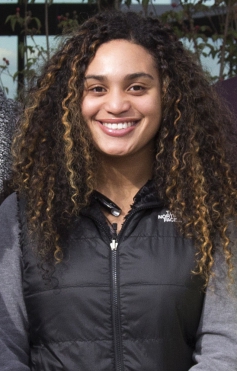 The Rev. Dr. Martin Luther King Jr. Spirit awards are bestowed by the University of Michigan's
Center for Engaged Academic Learning
, and recognize undergraduate students who exemplify the leadership and vision of MLK Jr. The award ceremony was celebrated on January 29 at the Colloquium Room, Ross School of Business.
Part of MLK Jr.'s enduring legacy is the inspiration his life's work provides to future generations.
Patricia Coleman-Burns
, faculty member at the School of Nursing and member of the Central Campus MLK spirit award committee, says "Jasmine Johnson is deserving of this award for many reasons, chief among them that she is always willing to extend herself to help out another student, being a true community leader in the spirit of the Rev. Dr. Martin Luther King, Jr."
Johnson served on the Diversity, Equity, and Inclusion strategic plan committee for the School of Nursing in the 2015-16 academic year, and continues to serve on the
DEI Implementation committee
. In both venues, she provides important input concerning student climate and needs.
When the school launched a training for students, faculty and staff focused on the health needs of transgender adolescents, Johnson personally organized dozens of students to participate. Additionally, she serves as a mentor for non-traditional students, helping them achieve quality clinical skills and competencies. This is particularly noteworthy in a discipline like nursing, where undergraduates must pass a national exam upon completion of their education. Licensing is an individual effort and students are often counseled to focus on themselves only. It is considered risky for students to over extend themselves to help another struggling student.
"Johnson's commitment to her discipline and her fellow students is rightly recognized with this award. She is definitely one of the leaders and best!" said U-M School of Nursing's
Dean Patricia Hurn
.