U-M School of Nursing adds senior director for diversity, equity and inclusion
The University of Michigan School of Nursing today announced the addition of Rushika Patel, Ph.D., to its staff as the school's first director for diversity, equity and inclusion.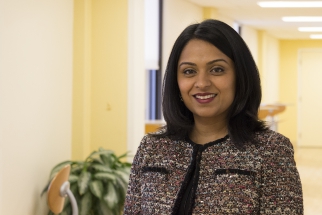 "Our students, faculty and staff will benefit greatly from Rushika's breadth of experience and knowledge," commented UMSN Dean Patricia D. Hurn. "With the support of our existing diversity, equity and inclusion (DEI) implementation committee, I'm confident she will help us make great strides toward our diversity, equity and inclusion goals."
Patel was hired after a national search that yielded candidates from across the country. She will be involved in implementing UMSN's Strategic Plan for Diversity, Equity, and Inclusion, and will be instrumental in making DEI efforts of the school broad, deep, and effective.
Diversity, equity and inclusion is the central lens though which Patel says she views and acts in the world. She has been committed to work on diversity, equity, and inclusion in education throughout her career.
"I am most excited about having the opportunity to work in health, and with nurses in particular," said Patel. "Working with nurses presents a way of expanding the impact of my contributions toward diversity, equity and inclusion with those who are deeply committed to the care of others."
Patel will begin by gathering information about current initiatives and activities of the School of Nursing and reviewing the
DEI strategic plan
. She plans to meet with as many students, faculty and staff as possible to understand the ongoing and important work of our community. By accomplishing the aims of the strategic plan and building on the rich work of UMSN that focuses on supporting underrepresented and underserved populations, she believes the school will be a pre-eminent example of progress and innovation in the 21
st
century.
Patel looks forward meeting the school community, and hopes that as many who can join UMSN's
watch party
of the MLK Memorial Lecture with Amy Goodman and Issa Rae. Stay after the lecture to introduce yourself and chat.

Before joining the UMSN, Patel served as the Director of the Women's Educational Center at U-M Flint. Patel holds a Ph.D. in Educational Policy Studies and Organizational Leadership of Global Studies from the University of Illinois at Urbana-Champaign, a Master's in Social Justice Education from University of Massachusetts-Amherst, and a BA in Sociology/Race, Class and Gender Studies from University of Michigan-Ann Arbor. She has 16 years of experience in the education sector in the U.S. and in Asia.