UMSN Program Introduces the Next Generation of Health Care Leaders to Career and Impact Opportunities
A two a.m. wake-up call may not be uncommon for nurses, but it was for a group of 32 high school students and soon-to-be college freshmen.
Each summer, several dozen teens from across the country spend two weeks on the University of Michigan Ann Arbor campus participating in U-M's School of Nursing's (UMSN) Gaining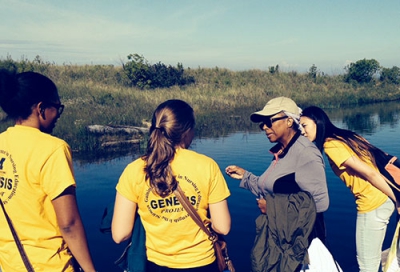 Excellence in Nursing Education: Strength in the Sciences (GENESIS) program. It's designed to encourage and prepare the students for career opportunities in the health sciences.
"I knew I was interested in doing something with health, but I wasn't really sure what," said high school senior Sara Elhasan. "This program really showed us the different fields of health care and so many opportunities I didn't know we had."
The early morning wakeup call came for a lesson in environmental and population health, as well as the importance of including fitness and self-care in daily life. The participants boarded a bus
from U-M's North Campus and headed to Northern Michigan. In Suttons Bay, UMSN clinical instructor
Judith Policchio, MS, RN, APHN-BC
, explained how rural and farming communities across the country offer numerous opportunities to work in population health. She shared how community health agencies often travel to farms with migrant workers, Native American reservations, and other rural locations to provide health care services.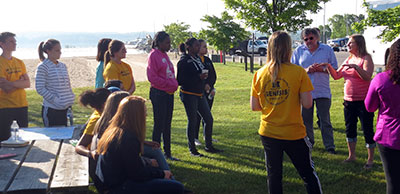 Larry Mawby, chairman of the Leelanau Conservancy, talked to the students about why the protection of natural resources means much more than maintaining nature's beauty. He offered a brief cultural and economic history connecting the sustenance and health of the Ottawa & Chippewa Indians whose agricultural and irrigational provisions have been linked to the safety of the lakes. He also explained how people can be affected by swimming in unclean water or eating seafood from a contaminated water source.
From Suttons Bay, the students traveled by ferry to South Manitou Island. In the mid to late 1800s, the island was home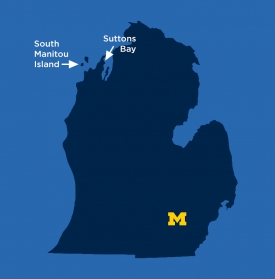 to a small community of farmers and logging businesses. Today there are no active farms on the island, but abandoned farm buildings and machinery can still be viewed by visitors. Now a destination for day visits and camping trips, South Manitou Island offers extensive hiking trails (which students explored in hikes more than seven miles in length), while encouraging "take nothing and leave nothing behind" behavior to protect the natural resources.
GENESIS includes the Exploring Nursing as a Career for Tomorrow (EnAct) program for underrepresented middle and high students, and the Bootcamp for Entering Students' Training (BEST) program for students who have already been accepted to UMSN and will begin their freshman year in the fall.
The two-week program included tours of U-M's health-based facilities, guest speakers, workshops and hands-on learning activities. Students learned about health disparities and how location, resources and the environment can play a role in health. The students also participated in the Detroit Toxic City Tour which shows the contrasts of Detroit communities through viewing of abandoned factories, scenic parks, and urban farms.
"Nursing at U-M has long recognized that improvement in health outcomes for all citizens is linked to addressing the issues of workforce diversity, health disparities, and social determinants of health," says Patricia Coleman-Burns, PhD, MA, a UMSN assistant professor and program director of GENESIS. "The EnAct and BEST students themselves represent communities and populations that U-M nursing is committed to reach -- first generation college students, residents of rural and farming communities as well as urban and suburban communities with high rates of health disparities and less access to advanced practiced health professionals."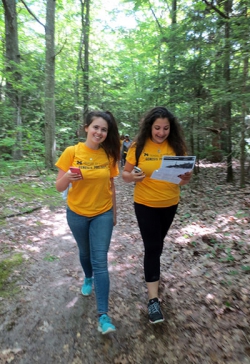 Now in its ninth year, GENESIS is strengthened by UMSN students who participated in EnAct or BEST and now work as staff during the summer program. Alexandra (Alex) Raklovits, about to begin her junior year at UMSN, was part of BEST before her freshman year. "I was coming from a high school with a really small graduating class and was a little nervous about a big school like U-M," she said. "But BEST helped a lot. I made great connections with upperclassmen who had really good advice and I met other incoming nursing students. Now we're going through nursing school together." Raklovits says she also appreciates the ongoing year-round benefits of GENESIS including study groups, mentorship, and job shadowing opportunities.
Xin Shu, a veteran of EnAct, agrees the relationships are one of the most important aspects of the program. "I liked getting to know the upperclassmen," she said. "I was able to ask them a lot of questions and that was really beneficial."
Shu, originally from China, is entering her sophomore year at UMSN and worked as a mentor during this year's summer program. "Before I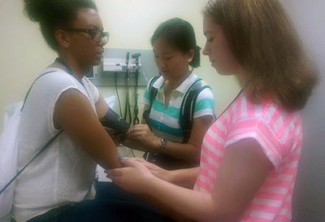 participated in the program, I was thinking about nursing but wasn't really sure. For me, the guest speakers were really valuable because I never knew nurses could do such different things. I always thought they had to be in the hospital."
The overall goal of GENESIS is to encourage students to pursue a college degree in health sciences, even if it is not at U-M or in nursing. But for some participants, like Elhasan, that's exactly what they decide they want. "Michigan is definitely my first choice," she says. "I'm not sure what I'll do, but right now I'm thinking about becoming a pediatric nurse practitioner. I thought it was really helpful that they told us what classes we should be taking in high school and what programs we should get involved in to help us be ready for nursing school. I'm really excited to think about the future."
The GENESIS III Project is funded through a federal grant from the U.S. Department of Health and Human Services, Health Resources and Services Administration (HRSA) Nursing Workforce Diversity program.