Three Class of '64 Alumnae Reflect on 50 Years in Nursing as Milestone Reunion Approaches
Representatives of a talented class that excelled in leadership, global health care, and patient care breakthroughs.
72 Year-Old U-M Nursing Alumna Leading Outreach Programs in Central America Isn't Slowing Down
"I intend to keep doing this as long as I can," says Nancy Gillette of the health care outreach trips to Nicaragua she's been organizing and participating in for more than fifteen years.
Read Gillette's story
After a nursing career in pediatrics, OB-GYN, hospice and school nursing, Gillette, a member of the University of Michigan School of Nursing (UMSN) Class of 1964, began volunteering with the Red Cross at disaster zones. It was during relief efforts after a 2001 earthquake in El Salvador that Gillette found the inspiration for her current work.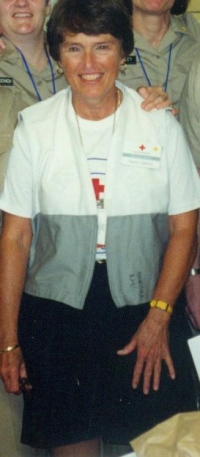 "I was roommates with Dr. Mir Padilla," says Gillette. "My Spanish was terrible and she didn't know English, but we were kindred spirits. She was working for an outreach program for children in Nicaragua and said there was a need for medical teams. The rest is history. I've taken two or three teams a year ever since."
Gillette now organizes the teams that include doctors, nurses, and others with expertise in health care, dentistry, and optometry to rural areas of Nicaragua. "We work all over the country," says Gillette. "We serve the people who have no medical care. We often camp out and then set up the clinic wherever we can."
"My work has been such a blessing to me," says Gillette. "I'm glad it's inspired others to do this work. One of our volunteers, Arlene VanSolkema, was also a former nurse. Arlene was in her 70s when she started volunteering with us. She had just lost her husband a few weeks before her first trip but she wanted to come anyway, and she came with us on every trip until she passed away."
Gillette says she was stunned when she learned Arlene had left $100,000 to their cause. A small portion of that money is already in use to improve a Nicaraguan school and create a clinic. "Knowing that our work is creating new ways to help people is such a good thing."
Gillette, who also serves as treasurer of the UMSN Alumni Society Board of Governors, credits the University of Michigan and her nursing degree with the foundation for her life's work and adventures. I think Michigan really gave me the education and opened my eyes to the whole world," she says. "I just like caring for people, and Michigan gave me the tools to do that. A career in nursing gives you every opportunity to travel, to raise a family while working, to be in business. I am always talking to young people about nursing. If you like science, you can't beat it. You have so many opportunities for work."
Gillette is always finding more opportunities to help local communities and the people of Nicaragua. "Our next trip is in November, then I'll be back in January to check on the new clinic, and I'm taking a team to that clinic in March."
But before her next trip, Gillette and her husband, Bob, plan to attend U-M's 2014 Homecoming Weekend, October 30 – November 1. "A group of us are renting a house in Ann Arbor for the weekend," she says. "It should be a lot of fun and I'm really looking forward to it.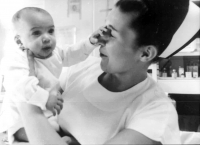 UMSN Alumna Reflects on Incredible Advancements of Neonatology During Her Career
Barbara Lanese was part of a team pioneering a groundbreaking treatment that improved survival rates for patients with heart and lung failure.
Read Lanese's story
"I started working in 1965, and neonatology was kind of a new field," says Barbara Lanese, a member of the University of Michigan School of Nursing's (UMSN) Class of 1964. "There were babies that were four or five weeks early and weighed maybe five pounds, and their survival was uncertain."
Research and funding dedicated to neonatology made a clear difference in survival rates during Lanese's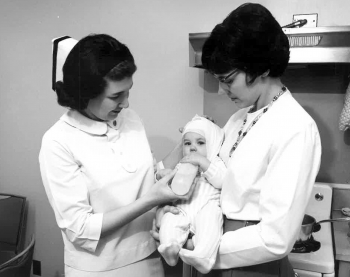 career. "The advances in technology were just amazing. By the time I retired in 1996, the babies who were a pound and only 24 weeks were surviving," she says. "Now it's even better."
"If a student is interested in a career in neonatology, I would tell them they have to love what they do," says Lanese. "You have to love children, but you also have to be patient. You have to know there are going to be some hard times and some heartbreak."
Lanese says her work with Dr. Robert Bartlett is among her proudest accomplishments. "We started the ECMO (extracorporeal membrane oxygenation) program for patients with heart and lung failure," she says. "Neonatal units around the country use it now, and we started it. Everyone learned it from us."
A 31-year career in Ann Arbor was never the plan for the Cleveland native, who originally intended to stay for a year or so. "Mott Hospital was being built, so I thought I would stay for that time. Then, the Holden Foundation gave one million dollars for perinatal research and they were going to build the Holden unit. I ended up not leaving because there was always a new challenge."
Lanese says her colleagues and their accomplishments are also a source of pride in her Michigan connections. "Seeing the advancements and successes of the nurses, many of them U-M grads, has been gratifying. They've moved into positions of leadership around the country, and that's really nice to see," she says.
Lanese's path to a U-M nursing degree was influenced by her parents but in very different ways. "My mother was a nurse, and seeing what she did attracted me to nursing. My dad was a music educator, and every time the U-M band came to Cleveland to perform we were always so impressed with them. That was my draw to Michigan."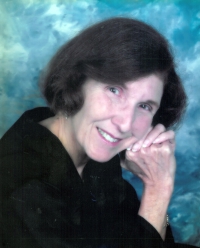 Her sister also felt the draw to a nursing degree from UMSN, but their brother followed a different path. "He went to Ohio State, so it's two against one. He's a professional musician in Germany. We have a bet that whoever loses the Michigan-Ohio State game has to call the other one. When I call him, he says "let me tell you about my golf game" and tells me every detail when it's on my dime," she laughs.
Now living in South Carolina, Lanese says she's looking forward to seeing the Wolverines take on the Indiana Hoosiers when she returns to Ann Arbor for Homecoming Weekend, Thursday, October 30 – Sunday, November 2, 2014. "It's hard to believe it's been 50 years," she exclaims. "I'm also looking forward to the tour of the new Mott Hospital and, of course, to seeing old friends."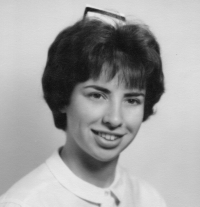 "Oh, the Places You'll Go"
"After working with people who were very ill and their families, I decided that I wanted to work with people to keep them from getting sick," says Carol Loveland-Cherry.
Read Loveland-Cherry's story
"There is a stereotype of a nurse in a uniform in a hospital," says Dr. Carol Loveland-Cherry. "Those are very important people, but in nursing there is a much wider range of opportunities. I chose working in the area of health promotion with families, infants, young children, and adolescents, primarily in schools and communities."
Dr. Loveland-Cherry, a member of the University of Michigan School of Nursing (UMSN) Class of 1964, found opportunities early in her career to expand the role of nurses. "I was working with three British physicians," she says. "I worked in a more expanded role, a kind of precursor to a nurse practitioner even though that position didn't really exist at the time. They were used to working with nurses in different ways so I jumped at that opportunity."
Family tragedy would inspire her next career move. "My husband died in a car accident two weeks after our third child was born. I decided I needed to do something so I went back to U-M for my master's degree."
Loveland-Cherry then began teaching fundamentals of nursing at UMSN. She joined a committee to start the
master's program, but a faculty member told her she should have a PhD to be on the committee. "So, I got one," Loveland-Cherry laughs. Her personal life was again the inspiration for her next decision.
"I was constantly told that a female single head of family cannot possibly raise healthy children, but I'd had enough of that one," she says. "Starting with my dissertation, I focused my research on the differences in single and two-parent families and started looking at family strengths."
Loveland-Cherry contributed extensively to research on families while also serving as the director of UMSN's Division of Health Promotion and Risk Reduction Program, associate dean for academic affairs and director of the doctoral program. "I never planned on a career in administration but I'm proud of what we accomplished. We created the family nurse practitioner program and the Second Career program. It was wonderful to have faculty who wanted to do those things and to have administrative support to facilitate them."
Service on the federal Agency for Healthcare Research and Quality (AHRQ) U.S. Preventive Services Task Force and the travel opportunities that came from her research are also career highlights. "It made me think of Dr. Seuss, 'Oh the places you'll go,'" she says. "I got to see parts of the world I never thought I'd see—like Japan, China, Thailand and Russia—and all from working with nurses who were trying to build a better life for people through research."
Loveland-Cherry is looking forward to reuniting with classmates in Ann Arbor during Homecoming Weekend, Thursday, October 30 – Sunday, November 2, 2014. "Our senior year was the first year women had apartment privileges. Some of us from that group that lived together still get together every couple years. But there are a lot of classmates I haven't seen in years, so I'm really looking forward to seeing what people have been doing."
UMSN alumni from all classes are invited to the 2014 Homecoming Reunion Weekend. For more information, please visit our
Reunion webpage
or contact the Alumni and Development Office at
nursingalum@umich.edu
or (734) 763-9524.