Meet UMSN's First Peace Corps Returnee Coverdell Fellow, Clara Julien
Bringing a global health perspective to American communities.
For graduate student Clara Julien, the path to a career in nursing wasn't clear until her Peace Corps experience. "I never really thought about being a nurse," says Julien. "It wasn't a career I was exposed to growing up."
Julien did have a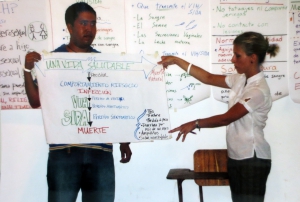 strong interest in world culture and becoming a Peace Corps volunteer. She was accepted and originally was expected to fill an opening in Africa, but she wanted to use her Spanish language skills and was reassigned to Honduras as a health volunteer.
During her two years of service, Julien worked on a wide variety of projects and partnerships with schools, health centers, and non-governmental organizations. She was trained to teach community health workers about health issues including malnutrition, infections, basic hygiene and preventative care. "We made weekly visits to 19 surrounding villages to give health presentations and vaccinations," says Julien. Other projects included developing education material for topics such as youth literacy, lessons on leadership and environmental education.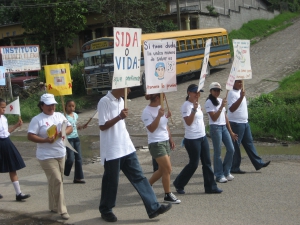 One of Julien's most intensive activities was HIV and AIDS awareness and care training. She facilitated training workshops with health practitioners and nursing students, taught programs to secondary students to increase public education of HIV, and helped organize community events such as World AIDS Day activities including a parade, presentations and advertising on local television stations. "Seeing what the nurses did there with such limited resources really inspired me to think, 'If they can accomplish as much as they do in this setting, imagine what I can do as a nurse in the United States,'" says Julien.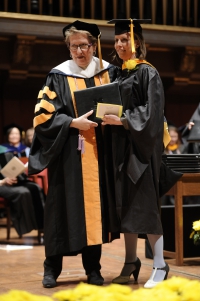 When Julien returned to the U.S. she went back to school to obtain a second bachelor's degree, this time in nursing. In May 2014, she graduated from UMSN's Family Nurse Practitioner program with a concentration in Occupational Health Nursing (OHN). During graduation, she received the Sally Lechlitner Lusk Award. It honors UMSN Professor Emerita
Sally L. Lusk, PhD, RN, FAAN, FAOHN
, a pioneer in research on worker health and safety, as well as in program development.
During her time in the master's program, Julien became the first UMSN student to receive a
Paul D. Coverdell Fellowship
, which provides financial assistance to returned Peace Corps Volunteers. Fellows complete internships in underserved U.S. communities, allowing them to share the skills they developed in the Peace Corps.
One of Julien's clinical placements was at Community Health and Social Services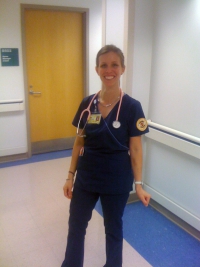 (CHASS) Center in Detroit. CHASS is a non-profit organization focused on quality primary care for the community, which includes an emphasis on the Latino population.
"I used my Spanish skills with about 90 percent of the patients," says Julien. "I lived in Spain when I was younger, and then with my experience in Honduras, I know how it feels to be an immigrant. That helped me understand their experiences and point of view. I think it makes you more sympathetic. I also definitely think my experience as a health educator gave me a skill set that I use here."
Julien says she never expected to get funding as a result of Peace Corps service but is extremely happy about the Coverdell Fellowship. "It's a big relief," she says. "To have the money go directly to tuition is a wonderful thing."
Coverdell Fellows receive a one-time award of $10,000 upon entering the program. Julien plans to pursue a career in community health and says she is grateful for the impact the fellowship will have on her student loans. She says "Because of that funding, I'll have more freedom in picking my first job. I won't have to worry as much about my loans and can focus on a job that will hopefully allow me to make a real difference in the community."