Dean Potempa Joins Wall Street Journal's Prestigious Health Experts Panel (November Update: New Commentaries)
You can read commentaries on a range of topics, from healthier behaviors to access to care.
On June 17, 2013, commentaries by University of Michigan School of Nursing (UMSN) Dean and Professor Kathleen Potempa, Ph.D., RN, FAAN,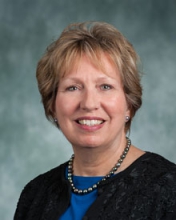 appear for the first time as part of the Wall Street Journal (WSJ) national online roundtable The Experts: Health Care. The in-depth public forum, which is convened and published approximately four times a year, features very short essays on assigned topics from an exclusive group of industry and thought leaders. Readers are invited to engage in the discussions through submissions of questions to TheExperts@wsj.com.
WSJ expert health panelists include Dr. Jeffery Flier, dean of Harvard Medical School; Dr. Peter Pronovost, a physician and advocate for safer hospitals on staff at Johns Hopkins University; Marissa Weiss, founder of BreastCancer.org; plus dozens more leading national voices from health-related institutions, businesses, and advocacy groups.
"I am honored to be joining this diverse panel of health experts," said Dean Potempa, whose first commentary explained why
reducing sugar intake
is the top change needed in our national diet. She also shares how
nurses can help alleviate
the predicted physician shortage.
"I will share information about how nurses improve the health and well-being of people worldwide, as well as tips on promoting healthy behaviors and improving access to care," she added.
New November Commentaries: