Blending High Tech with High Touch: UMSN Strengthens Leadership Role with Health Informatics
University of Michigan School of Nursing Associate Professor Patricia Abbott, Ph.D., RN, FAAN, is featured in 'The American Nurse' for her role in nursing innovation.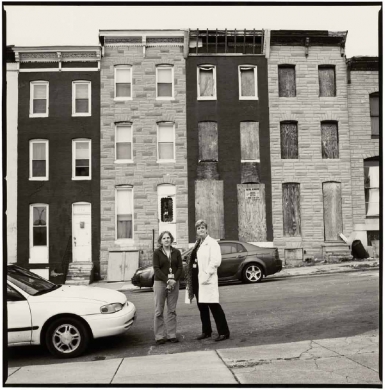 Dr. Patricia Abbott shifted her career focus more than 20 years ago after being confronted with information technology that was ineffective in her nursing practice. She recognized the importance of heavy user involvement in the design of technology meant to support people in their jobs and normal lives.
"I did not want someone else to invent the systems that my colleagues and my patients would have to use," said Dr. Abbott. "Research and experience shows us that technology created in the absence of the user voice ends up being sub-optimal and can actually make use harder and unfortunately more dangerous. I have always believed that transdisciplinary and patient-centered approaches to the digital transformation of our industry are our best bets."
Dr. Abbott, a new addition to the UMSN faculty from the schools of Nursing and Medicine at Johns Hopkins University was drawn to Michigan because of the school's commitment to leadership in practice and education re-engineering. "The brain trust within the School of Nursing is incredible. Combine that with a new state-of-the-art building coming soon, the support of Dean Kathleen Potempa, and a university environment that supports innovation – and you have a winner."
Dr. Abbott's innovative work is featured in The American Nurse, an extraordinary new book showcasing work, interviews, and biographies of 75 nurses in the United States. It received high praise in the New York Times. "Dr. Abbott spoke of the future of nursing moving towards at-home care and the power of technology," said Carolyn Jones who did the photography and conducted the interviews for the book. "This photo of Patti represents the future of healthcare in many ways. As she says – healthcare is going home."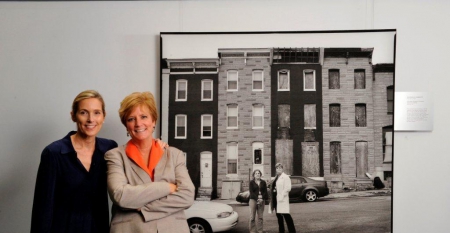 Dr. Abbott's most recent research focused on home-confined, inner city African Americans with congestive heart failure. Using a telehealth device installed in the patient's home, connected to the secure cloud via WiMax, and a suite of blue-toothed physiological monitoring devices such as weight scales and blood pressure cuffs, Dr. Abbott was able to reach very vulnerable and underserved populations.
"We often think of people living in developing countries as those who need our help," said Jones. "When Patti Abbott spoke of only needing to travel eight short blocks from a major hospital in Baltimore to find those in need, it struck a chord, and we knew this was a story we wanted to capture for The American Nurse book. Her desire to use innovative technology to help improve the lives of people was inspiring to us – especially when we accompanied her into some of the city's toughest neighborhoods."
Dr. Abbott believes empowering patients to manage their own health went far beyond what the formal data from the study will show. "They would say to me, 'Look at how high my blood sugar was on Monday evening even though I took my medicine.' So I asked, 'What did you do Monday night?' 'Well, the grandkids came over and we had ice cream.' I can watch the light bulb go off. They begin to figure it out, and the data begins to mean something to them. They can see the cause and effect. It begins to have an effect when patients feel that they have some "skin in the game."
While Dr. Abbott considers that research a success, it also showed her ways to take her work further. "I measured self-management skills and knowledge of heart failure," she said. "What I didn't measure was the impact of data liberation – them having the data, right in front of them so they could make a better decision on their own health. It truly is empowering. As the silver tsunami of baby boomers and progressively more unhealthy Americans approach our healthcare system doors, we have to look for different ways to promote better health and provide more effective care. I think health information technology is a very powerful tool in our armamentarium."
Dr. Abbott has worked with patients throughout the world, including the Middle East, Latin America, the Balkans, Europe, and Asia. She believes, with specific tailoring, the technology can be utilized anywhere. "I use informatics, computers, and telehealth devices to improve patient care and safety, but it's not about the technology," says Dr. Abbott. "It's about the people on the other end."
Photos courtesy: The American Nurse Photographs and Interviews by Carolyn Jones; Welcome Books; Text & Photographs 2012 © Carolyn Jones.
Written by Jaime Meyers, 734-764-7006
UMSN Marketing and Communications, sn-comm@umich.edu