Dr. Sampselle Granted $3 million for UI Intervention Translation
Dr. Carolyn Sampselle
is an accomplished researcher with continuous financial support from the
National Institutes of Health
(NIH) for more than fifteen years and counting. Because of her many accomplishments, it was really no surprise when she was recently awarded a $3 million, 5-year grant from the NIH for research on a urinary incontinence intervention that she's been working on for some time. And yet, this grant stands out; not only are the amount and duration of the grant impressive, but also the research has the potential to deliver a proven self-management program to women all over the country. In the words of Dr. Sampselle herself, "it's a really important project."
Dr. Sampselle didn't necessarily start out with her sights set on becoming one of the leading nurse investigators in the United States. Rather, originally a practitioner and teacher, she was drawn to the branch of nursing science as a result of her experiences on the floor treating patients and in the classroom training future nurses. "I saw tremendous opportunity to do research that would have an impact on practice," she explains. And so it began.
Right away, Dr.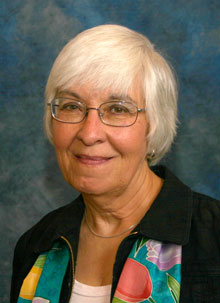 Sampselle became involved with a group of researchers focusing on the treatment of urinary incontinence (UI) in women. Through this work, her interest in the subject grew and she began to develop her own focus, one primarily based on creating and improving urinary incontinence prevention through self-management. The result was a three part program of physical movements designed to help women prevent and control UI symptoms. The first component is a daily, 10-minute exercise, often referred to as Kegels, in which an individual intentionally contracts the pelvic floor muscles to build strength and control in this region of the body. The second, called Knack, is a strategically timed contraction of the pelvic floor that can help prevent UI during a sneeze or the lifting of a heavy box. Finally, the third component is bladder training which allows women to wait longer in between trips to the bathroom. When combined and practiced on a regular basis throughout the course of a woman's life, these exercises have actually proven to prevent urinary incontinence and make it a manageable condition for women already affected.
As she continued to develop her intervention, Dr. Sampselle often pursued an interdisciplinary approach to research by incorporating the work of experts from other fields. For instance, by working with OB/GYN physicians, she was able to look more closely at the structures, tissues, and muscles in the pelvic floor that were affected by child birth and could later play a role in UI. With the help of biological engineers who created specialized medical equipment, she incorporated precise measurements of pelvic contractions during the Kegel exercises. Through collaborating with social scientists, Dr. Sampselle explored the dynamics of self-efficacy as they related to women utilizing her self-management program. Ultimately, this multi-faceted strategy allowed her to examine far more aspects of her work than she would have been able to examine alone, leading to a more comprehensive intervention. "I was hugely privileged to have such a great interdisciplinary team," she says.
Now, this already well investigated intervention is entering the next stage: "The buzz word these days is 'translation,'" says Dr. Sampselle explaining the focus of her new NIH grant research. Essentially, as it stands, the intervention is taught to women in a group session. Unfortunately, however, this takes time, training, and resources that many non-academic healthcare facilities do not have. As she says, "we know our intervention works in a tightly controlled research environment, but this only benefits the small group of women participating. It's had the demonstrated benefit we're looking for, but it is not readily available." So, through the grant, she will be able to translate the intervention, taking its potential benefits and repackaging it so that it becomes accessible to a much wider audience. In essence, the study will compare the effectiveness of the standard, in-person form of UI prevention training to the effectiveness of a condensed DVD version of the training that women can watch on their own. If they find that the two methods of teaching the intervention are comparably effective, "it will open up the door to much more widespread dissemination. We'll be able to put the tools in the hands of front line healthcare providers."
In talking about her work which revolves around urinary incontinence and pelvic floor squeezing exercises, Dr. Sampselle is as at ease as if she were talking about paper cuts and bicep curls. She laughs, "To remember the Knack, we say 'squeeze before you sneeze' and it actually helps people remember!" While she knows that there's the potential for awkwardness or discomfort in discussing the issue of urinary incontinence, her perspective is that nurses have a preeminent commitment to prevention and therefore need to find ways to help people feel empowered in their own health and healthcare. She explains, "Bodies can do wonderful things if we work with them and respect how they function," and that's why her focus is so grounded in educating people on how to take care of themselves. "They know nurses are looking out for their best interests," Sampselle says, meaning that they're usually willing to give the program a try.
As an integral and active part of the University herself, Dr. Sampselle commends the institution for providing an encouraging, supportive, and barrier free environment for investigators, specifically for those wishing to collaborate across multiple fields. "There's such a commitment within the University of Michigan and certainly within the School of Nursing to interdisciplinary research," she says. "They understand that it's important that nursing's voice be in healthcare related conversations and that we have substantive contributions to make. They know that something is missing when we're not there." With so much experience and this important grant study on her hands, Dr. Sampselle is certainly an asset to the area of healthcare research as a whole and the U-M School of Nursing looks forward to its continued support of her work.